Career Opportunities

Current Openings for the 2023-2024 School Year
PROFESSIONAL OPPORTUNITY
ADMINISTRATIVE POSITIONS
COUNSELOR POSITIONS
DISTRICT POSITIONS
ELEMENTARY SCHOOL
MIDDLE SCHOOL
HIGH SCHOOL
INTERVENTION SPECIALISTS
Intervention Specialist (CC) @ Rosa Parks
Intervention Specialist (FLE) @ Rosa Parks
SPECIALS
TUTORS
Reading Tutor @ Rosa Parks
SUPPORT STAFF OPPORTUNITIES
Paraprofessional @ Middletown Middle School (11/29/23)
Paraprofessional (Unit) @ Miller Ridge (11/17/23)
Paraprofessional (1:1) @ MHS (11/16/23)
Paraprofessional (moderate to severe) Start date January 3rd @ Mayfield Elementary
Paraprofessional (1 year) @ Rosa Parks
Cafeteria Aide (part time) @ Highview 6th Grade Center
Paraprofessional (Esser - 1 year) @ Creekview Elementary
Paraprofessional (ESSER) @ Rosa Parks Elementary
Paraprofessional (Unit) @ Middle School
Sub Custodians @ District
Athletics
Head Football Coach
JV Bowling Coach
Crossing Guards
Wildwood Elementary
$15.00 / hour
10 Hours/Week
(Monday through Friday: 8:30-9:30 AM & 3:30-4:30 PM)
Bus Drivers Wanted
In an effort to recruit and retain bus drivers, Petermann Bus is offering a competitive incentive program to current and new drivers.
Positions start at $17/hour.
New drivers will receive $2,000. Plus, fully paid training, guaranteed hours, and substitutes. Training typically takes 4-6 weeks for new drivers.
Current drivers will receive a $2,000 referral bonus if they recruit successful new drivers.
Join the team #MiddieRising
Apply online or call 513-420-4568 (Requisition Number: 214019)
Substitute Food Service Workers Needed
Please call Jenny Childers @ 513.217.2725 for more information.
Substitute Paraprofessionals & Substitute Secretaries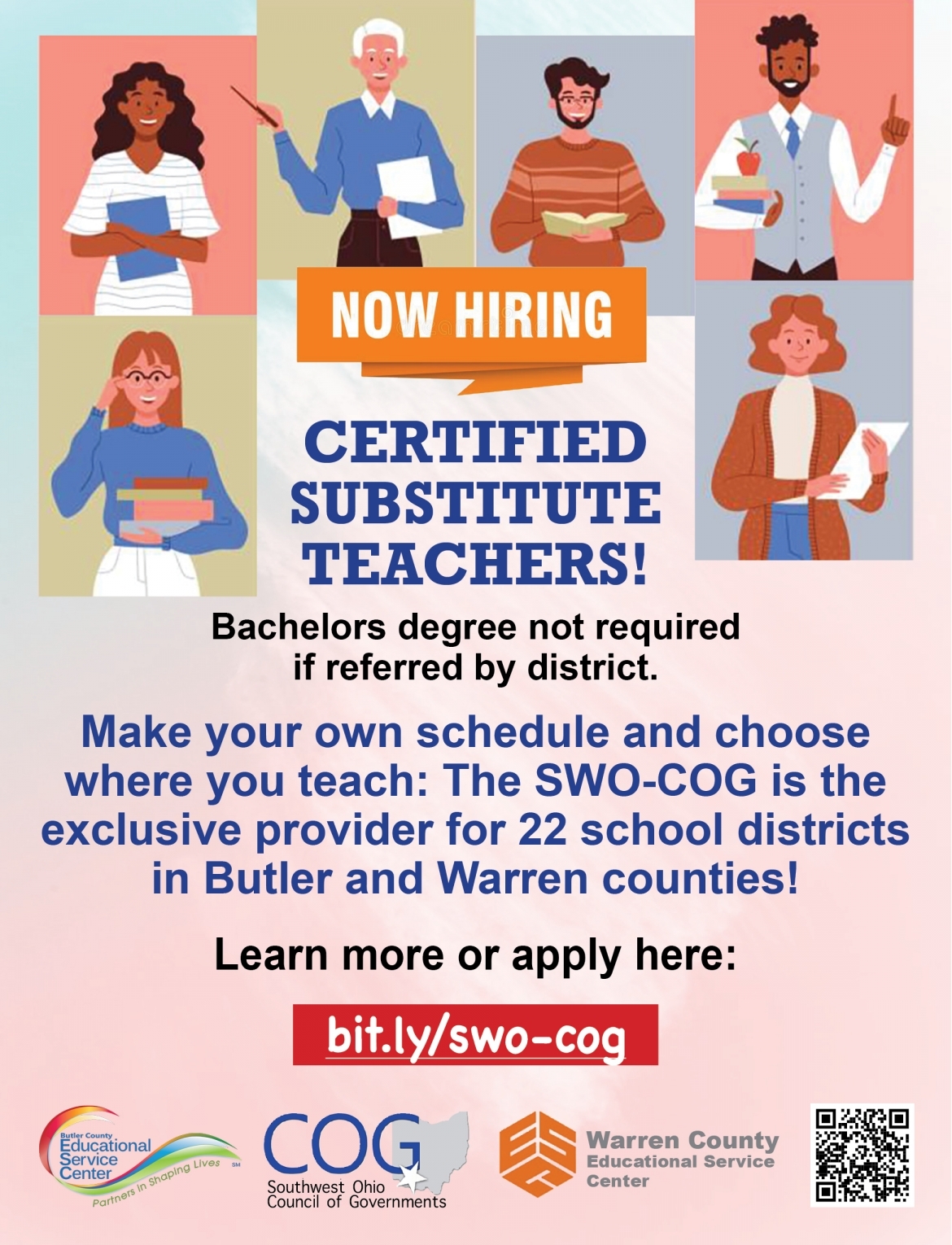 Substitute Teachers
The Middletown City School District is an Equal Opportunity Employer