Career Opportunities

PUBLIC NOTICE
Middletown City School District
The Middletown City School District will administer a written Civil Service test on Thursday, March 2, 2023 to establish eligibility for possible future secretarial/office support position(s) in the Central Office, Treasurer's Office and School Buildings.
Applicants must have some secretarial experience, basic math skills and verifiable computer competency skills.
Those interested must apply online at: The Greater Cincinnati School Consortium
Applications must be submitted online no later than midnight, February 12, 2023.
An Equal Opportunity Employer
Current Openings
2022-2023 School Year
MIDDLE SCHOOL
6th Grade Math @ Highview 6th Grade Center
HIGH SCHOOL
INTERVENTION SPECIALIST
Intervention Specialist (CC) @ Amanda Elementary
*SUBSTITUTE POSITIONS
1st Grade Long Term Substitute @ Miller Ridge (6 Weeks beginning March 1)
Long Term Substitute Intervention Specialist (CC) @ Miller Ridge - February 10, through May 18, 2023.
District Subtitute (Building-Full Time) @ Miller Ridge
SKILLED TRADES
Electrician (Certification)
TECHNICAL SUPPORT
System Support Technician II (Entry Level Position)
SUPPORT STAFF OPPORTUNITIES
Custodian (4 Hour Shift) @ Creekview
Paraprofessional @ High School
Paraprofessional @ Central Academy
PT Library Aide @ High School
Lunch Aide (PT) @ Highview
Library Aide (PT) @ Highview
PT Hall Monitors (Multiple) @ Highview, Middle School and High School
Sub Custodians @ District
2023-2024 School Year
Professional Opportunity
ADMINISTRATIVE POSITIONS
COUNSELOR POSITIONS
DISTRICT POSITIONS
ELEMENTARY SCHOOL
SPECIALS
TUTORS
SUPPLEMENTAL STAFF OPPORTUNITIES
Crossing Guards
Rosa Parks
$10.50 / hour
10 Hours/Week
(8:30-9:30 AM & 3:30-4:30 PM each day)
Athletics
2023-2024 School Year
Head Varsity Girls Soccer Coach
Middle School Volleyball Coaches (2)
Bus Drivers Wanted
In an effort to recruit and retain bus drivers, Petermann Bus is offering a competitive incentive program to current and new drivers.
Positions start at $17/hour.
New drivers will receive $2,000. Plus, fully paid training, guaranteed hours, and substitutes. Training typically takes 4-6 weeks for new drivers.
Current drivers will receive a $2,000 referral bonus if they recruit successful new drivers.
Join the team #MiddieRising
Apply online or call 513-420-4568 (Requisition Number: 214019)
Substitute Food Service Workers Needed
Please call Jenny Childers @ 513.217.2725 for more information.
Substitute Paraprofessionals & Substitute Secretaries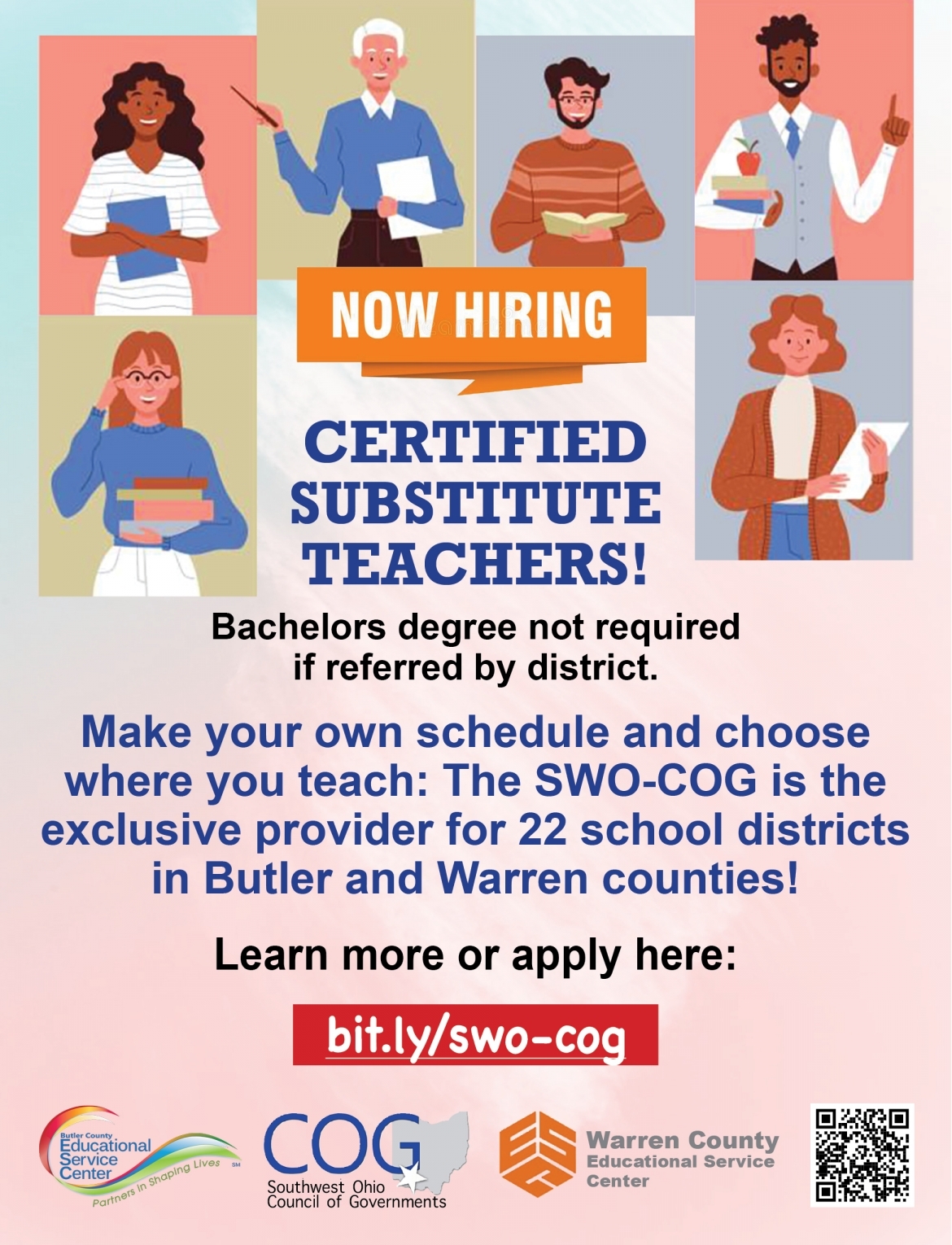 Substitute Teachers
The Middletown City School District is an Equal Opportunity Employer