Middie Cyber Academy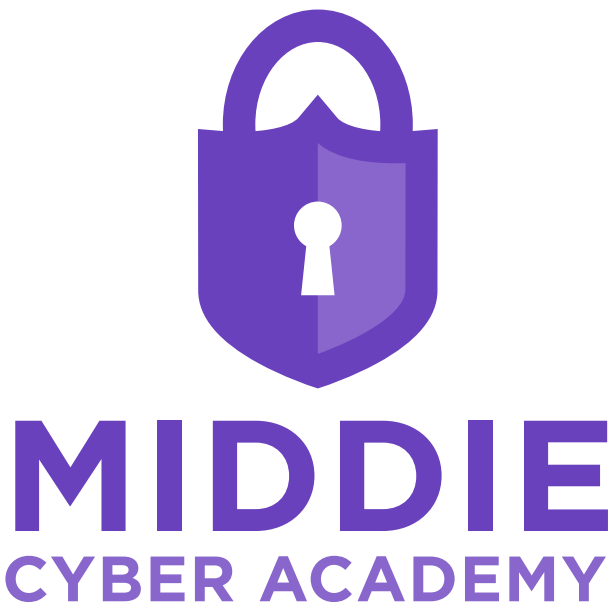 Middie Cyber Academy
The Middie Cyber Academy curriculum is packed with highly sought-after certification possibilities that will prepare students for a profession and/or additional training in cybersecurity. These courses are all industry-recognized and cyber-focused. The experience involves face-to-face interaction, mentoring, and a variety of extracurricular opportunities for students to put what they've learned in class into practice.
"Middletown City School District has recognized the increasing significance of cybersecurity in our digital age, and the need to equip our students with essential skills for their future success, Superintendent Deobrah Houser said. "The initiation of a cybersecurity pilot class at Middletown High School aims to empower our students with practical knowledge in online safety, ethical hacking, data protection, and critical thinking, ensuring they are prepared to navigate the evolving landscape of technology responsibly. By embracing this innovative approach, we are fostering a proactive educational environment that prioritizes student safety, fosters digital literacy, and prepares our students for the challenges and opportunities of the 21st century."
There are currently one million open cybersecurity jobs in the United States, and it's predicted that number will increase to 3.5 million in five years.
Leaders in the sector frequently state how they'd prefer students come directly to them with practical experience and industry credentials, rather than from colleges that might be decades removed from the industry and lacking recent training materials.
In our region, offering a cybersecurity high school course is crucial to equipping students with essential skills in combating cyber threats and meeting the demand for cybersecurity professionals. To ensure high-quality education, our district partnered with Digital Promise, benefiting from their expertise, resources, and curriculum support in the ever-changing field of cybersecurity.
How is the Program Structured?
The Middie Cyber Academy includes a number of real-world learning challenges for students.
This course and even the conventional "pathway" programs are not your normal high school courses. Cyber courses 1, 2, and 3 are developed to combine in-person exercises, with online training for cybersecurity industry certifications.
With assistance from industry partners, students in Cyber 1 will face in-class obstacles. Weekly guest speakers are asked to provide insight from various aspects of the cybersecurity field.
Students in Cyber 2 will participate in job-shadowing with industry partners to observe the practice of cyber security while continuing to collaborate with their mentors to address in-class problems. Students will be able to earn security certifications while also participating in national competitions.
The culminating "build your own challenge" experience known as Cyber 3 will allow students to choose the qualifications and career path that most appeals to them. All of this culminates in a paid internship during their senior year.