Principal's Message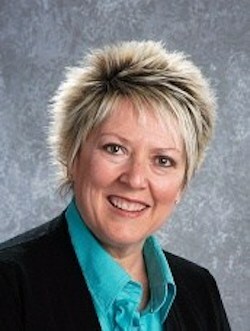 MHS Principal- Carmela Cotter
Dear Parents/Guardians and Students:
Welcome to Middletown High School, the home of the Middies!
High School is a special time in life and I encourage all students to embrace opportunities in academics, athletics, the arts, extracurricular clubs and activities, and work/service. All of these areas offer fun and rewarding chances to grow and develop into successful, well-rounded, and happy adults.
Know that Middletown High School takes the education of all our students very seriously. Even as we surface from these unprecedented pandemic times, we have remained committed to varied programming options including robust in-house and virtual educational opportunities. We have a great variety of electives and Advanced Placement classes for a rigorous schedule as well as many intervention programs and strategies for students who struggle in the classroom. We have a Title I supported online intervention lab, opportunities for homework assistance, and College Credit Plus to maximize options for all our students. Study hall time is an option in our schedule so students have access to licensed teachers to provide additional support. And, we have regular MAP, Middie Advisory Periods, for mentoring and social/emotional support of our students. MVP, Middie Virtual Program, had been reimagined to provide a teacher supported virtual option for our students.
Each student at Middletown High School is important and valued by our team of educators. We champion our diversity and encourage nonviolent advocacy for social justice. We strive for all of our students to continue to discover their potential and progress toward their personal success. Our best advice is to embrace the time you spend at Middletown High School and take advantage of as many opportunities as you can handle. You will find new friends, be delighted at what you learn and experience, and be prepared for your future.
We, the faculty and staff of Middletown High School, are looking forward to each day connecting with our students. We are Middie Proud to implement our vision to unite, inspire and transform. If we can be of any assistance, please call or email us. We look forward to a wonderful partnership with our students, parents, and community. #MiddieRising
MHS Principal, Carmela Cotter