Impact Report for First Year of Adopt A Class Partnership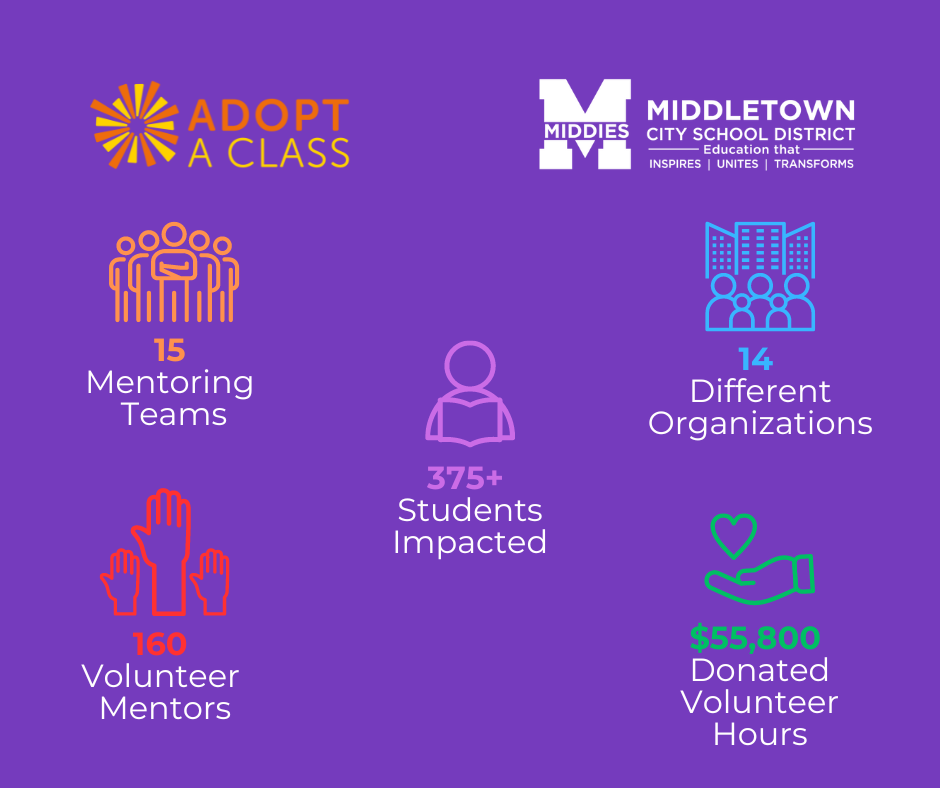 Impact Report for First Year of Adopt A Class Partnership
Middletown City School District (MCSD) is celebrating one year of partnering with the non-profit organization Adopt A Class, to connect businesses and civic groups with students at Mayfield and Wildwood Elementary.
As the 2023-2024 school year approaches, the partnership will now expand to additional classrooms with new programming at both Amanda Elementary and Creekview Elementary.
The objective of the Cincinnati-based Adopt A Class is to expose students in grades K-8 to a variety of experiences and careers, while also fostering a culture of teamwork among the organization's mentors.
Throughout the school year, mentors engage with students for one hour, once a month via monthly school visits, educational activities, and field trips.
Over the course of the 2022-2023 school year, Adopt A Class impacted more than 375 MCSD students, thanks to the help of 160 volunteer mentors from 14 different businesses and organizations.
Adopt A Class is actively recruiting new business partners for its program. If you or your organization would like to support the ongoing growth of the program, you can reach out to Megan Marshall, Director of Corporate Relations & Strategic Partnerships, at megan.marshall@aacmentors.org.
Thank you to these 14 businesses and organizations for impacting the lives of our MCSD students:
Mayfield Elementary:
AMS Construction Parts (2 Teams)

Crane Consumables

Hospice Care of Middletown

MyUSA Credit Union

Ohio State Highway Patrol

Worthington Industries
Wildwood Elementary:
Akers Packaging

BGR

Cincinnati State

Hightowers Petroleum Co.

Merrill Lynch

Miami University - Middletown

Miller Valentine Construction

Valley Central Bank