Virtual Graduation: May 19, 2020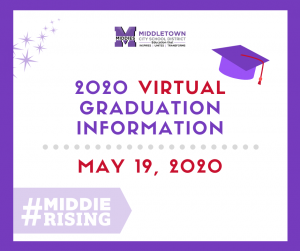 *From the Desk of Mrs. Carmela Cotter*
To Middletown High School's Graduating Seniors and Parent/Guardians:
Several members of the class of 2020 have asked to pick up their diplomas early due to leaving for the military and other life commitments. As a result, we have decided to go forth with a virtual graduation ceremony on our original date of May 19. Please know that we have not given up on the idea of a July ceremony, but as of right now, our Butler County number of people testing positive for the Covid -19 virus is not good, and we do not want to put into jeopardy a celebration for any student. Therefore, we will hold onto our July 9, 2020 date as long as we can, and go forth with a virtual ceremony now.
For our interactive two-part virtual event, we need to prepare.
On Monday, May 18 and Tuesday, May 19 from 9:00 AM to noon, graduates may pick up previously reserved loaner caps and gowns and honor cords and drop off books and chromebooks at MHS.

On Tuesday, May 19, 2020 at 7:00 PM, we will share a brief graduation ceremony via www.Facebook.com/MiddletownCitySchools. During this ceremony, we ask that graduates at home wear their caps and gowns, and participate in the tassel transfer from right to left, the cap throw, and the hollars and yells of jubilation with your quarantined family members.
For the second part of our virtual event, a family member is invited to take pictures and short (15 second) videos of your celebrations and upload them to us. We will be creating a Middie family album of this momentous occasion!
On Thursday, May 21 and Friday, May 22, from 9:00 AM to noon, graduates may return loaner gowns and collect diplomas at MHS.
I want to reiterate that at this time, we are remaining hopeful for the July 9, 2020 ceremony. We simply do not know what the future holds.
Please know that this virus will not rob our Middie graduates of their bright futures. You have been a wonderful group of young people and continue to be our pride and joy!
Let's get our Virtual Graduation ON!!
Carmela Cotter
Proud Principal of Middletown High School