Update #6: COVID-19 Food Schedule & Other Information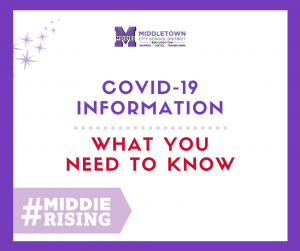 We know you have questions and we're working on getting all the answers! On Monday, March 16 (no school), we will post answers, updates, etc. on our website and share the link on social media and email. In the meantime, we can tell you the Greater Miami Conference (GMC) cancelled all athletics (games/practices/scrimmages/events). Per Gov. DeWine's order, all extracurriculars and all school events, trips, and functions have been cancelled or suspended until further notice. Starting Monday, all schools, enrollment, and district offices will be closed. If you need to reach someone, you can call 513-423-0781 between the hours of 8:00 AM - 4:00 PM.
Monday, March 16 - Friday, April 3, 2020 (10-11 AM), students will have access to free breakfast and lunch Monday-Friday.
On Monday, March 16, we will let students know how to access school work. We will keep you updated!
If you have any specific questions about certain events, please leave a comment or send us a message. We will try to answer in a timely manner. As always, continue to Rise Up and Be the Reason #MiddieRising
For more information, please visit our website. We will be adding links to resources and other information over the next several days: http://bit.ly/2TBETr1