Update #5: COVID-19 School Shutdown Per Gov. Mike DeWine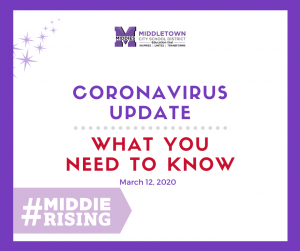 Dear Parents and Guardians (Versión en español):
Together, we are facing an unprecedented health crisis in our community. In our response to COVID-19, we must depend on the knowledge of the Butler County Board of Health, Ohio Department of Health, and the Centers for Disease Control as well as our elected officials. On March 12, Governor Mike DeWine announced that the state is closing all of K-12 schools starting Monday, March 16, 2020.
Per the recommendation of Gov. DeWine, Superintendent Marlon Styles, Jr., and the Middletown School Board will close all Middletown City Schools effective Monday, March 16, 2020 for three weeks. This necessary action is an effective public health strategy to disrupt widespread infection.
School will operate on a normal schedule tomorrow, March 13, 2020.
Beginning Monday, March 16, all district activities including school day instruction, home instruction, preschool, athletics/sports, enrichment, latchkey, etc. are canceled until further notice. We have an emergency food plan that will be put into place next week.
More school resources and feeding information will be provided by Monday, March 16 and we will post the information on our website, social media, and email.
As we learn more information, we will continue to update you via email, website, and social media.
---
To reach a health representative for more information on COVID-19:
The Ohio Department of Health has opened a call center to answer questions regarding Coronavirus (COVID-19). The call center will be open 7 days a week from 9:00 a.m. to 8:00 p.m. and can be reached at 1-833-4-ASK-ODH (1-833-427-5634).
Please call any of the three Public Health Agencies with additional questions:
Butler County General Health District: (513) 863-1770
City of Hamilton Health Department: (513) 785-7091
City of Middletown Health Department: (513) 425-1818