Update #19: Athletics & Facilities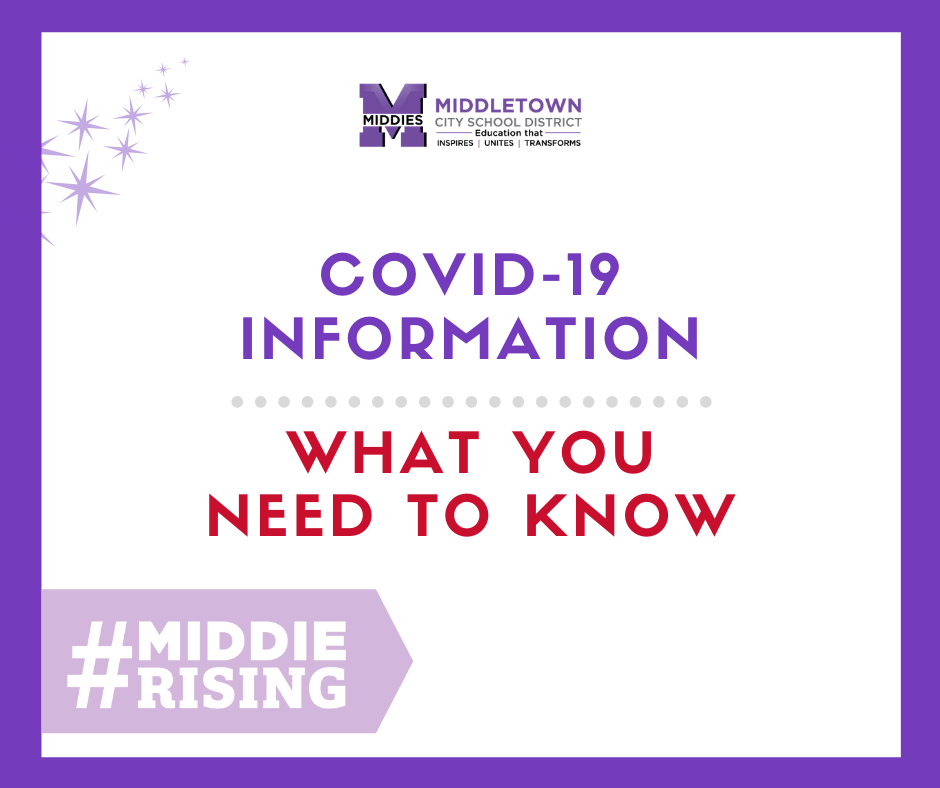 The Middletown Athletic Department is in constant communication with OHSAA and the Middletown Board of Health. We are excited by the news about sports opening back up, but we will take the proper amount of time to ensure the safety of all of our student-athletes and community. Our Coaches will communicate with the athletes once we get all safety protocols in place.
The Middletown City Schools facilities will not be open for outside team practices. Due to the strict restrictions, it is the best interest of the district to not rent facilities this summer. The track is open to the public, but we ask for there to be no large gatherings on the turf. Also, when the Middletown teams are practicing the facility is closed to the Public.
Our goal is to meet Wednesday, May 27th as an Athletic Department to go over our plan that will keep our student-athletes and coaches safe. In phase one of reopening, these are the steps we are taking to stay safe:
PHASE ONE
Pre-Workout Screening:
• All coaches and students will be screened for signs/symptoms of COVID-19 prior to a workout, to
include a temperature check.

• Any person with positive responses on the screening will not be allowed to take part in
workouts and should contact their medical provider.
• Vulnerable individuals should not oversee or participate in any workouts during
Phase One.
Limitations on Gathering:
• Gatherings will not consist of more than 10 people at a time, to include all
participants and coaches.

• Locker rooms will not be used during Phase One. Students should report to workouts in
proper gear and immediately return home to shower at the end of the workout.

• Workouts will be conducted in "pods" of students with the same 5-10 people (including
coaches) always working out together. Smaller pods will be used for weight training.
• There will be a minimum distance of 6 feet between each individual at all times. If this is not
possible, the number of individuals in the room should be decreased until proper social distancing
can occur.

Facilities Cleaning:
• Adequate cleaning schedules will be created and implemented for all athletic facilities.

• Prior to an individual or group entering a facility, all hard surfaces within that facility will be wiped
down and sanitized. Hard surface examples include but are not limited to chairs, furniture, locker
rooms, weight room equipment, bathrooms, and training tables.

• Hand sanitizer will be plentiful and available to individuals.

• Weight equipment will be wiped down thoroughly before and after each individual uses the
equipment.

• Shirts and shoes will be worn at all times.
• Students will be encouraged to shower and wash their workout clothing immediately upon
returning home. (Again, no locker rooms are available)

Physical Activity and Athletic Equipment:
• There will be no shared athletic equipment (towels, clothing, shoes, or sport specific
equipment) between students.

• Students will wear their own workout clothing, and clothing/towels should be washed and
cleaned after every workout.

• All athletic equipment, including balls, will be cleaned after each use and prior to the next
workout.

• Individual drills requiring the use of athletic equipment can be permissible, but the equipment
will be cleaned between use of each individual.

• There will be a focus on resistance training with bodyweight, sub-maximal lifts, and use of
resistance bands.

• Free weight exercises that require a spotter will not be conducted, as they cannot be
conducted while observing social distancing.

Hydration:
• All students should bring their own water bottle, and water bottles will not be shared.

• Hydration stations (water fountains, water troughs, etc.) will not be used.