Update #18: COVID-19 Food Locations and Times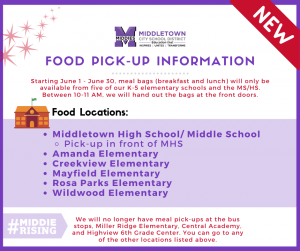 (Desplácese hacia abajo para español.)
May 20, 2020 is the last day of the May meal pick-ups, but we will be back in June! Starting June 1 - June 30 (Monday-Friday, 10-11 AM), meal bags (breakfast and lunch) will be available from five of our K-5 elementary schools and the MS/HS. We will hand out the bags at the front doors.
***
We will no longer have meal pick-ups at the bus stops, Miller Ridge Elementary, Central Academy, and Highview 6th Grade Center. You can go to any of the other locations listed in the graphic.
INFORMACIÓN DE RECOGIDA DE ALIMENTOS
Comenzando desde el 1 de Junio hasta el 30 de Junio, las bolsitas de comida (desayuno y almuerzo) solo estarán disponibles en 5 de nuestras escuelas primarias y en la MS/HS.
Entre las 10-11 AM se entregarán en las puertas principales.
Ubicaciones de las Comidas:
Middletown High School/Middle School

Recogida al frente de la MHS

Escuela Primaria Amanda

Escuela Primaria Creekview

Escuela Primaria Mayfield

Escuela Primaria Rosa Parks

Escuela Primaria Wildwood
Ya no tendremos recogida de comidas en las paradas de buses, Escuela Primaria Miller Ridge, Central Academy y el Centro de 6to Grado Highview. Si puede ir a cualquiera de los lugares de la lista anterior.