Update #1: COVID-19 Update & Guidelines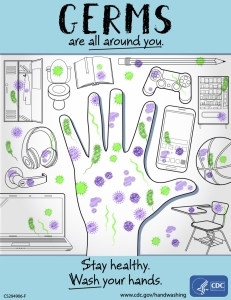 Dear Parent(s) and Guardian(s):
We want you to be aware the district is closely monitoring the daily updates regarding COVID-19 (formerly known as Coronavirus). Please be assured that we work closely with the City of Middletown Health Commissioner and the Butler County Health Department to stay up to date with concerns and illness trends in our area. As a district, please know the following:
We are closely monitoring the Center for Disease Control (CDC) updates and recommendations.

All nurses monitor illnesses, as they always have, to identify flu and other illness trends. If greater than normal illnesses are happening, our nurses work with the health department and will notify parents and staff as needed to monitor their children. Additionally, our nurses are in close contact with the custodial staff so that should there be an increase in any type of illness extra steps are added to the daily cleaning procedures to lessen the spread of germs.

There are currently no cases of COVID-19 in Ohio, so anything now is in the preparation phase and not currently an active disease outbreak.

As always, we continue to encourage hand hygiene, cough/sneeze etiquette, and staying home when ill.
The determination of a positive diagnosis would be made by the CDC, and we would immediately notify parents. The Butler County Public Health Agencies and the Butler County Emergency Management Agency is also working with all school districts to assist and monitor any situation that may transpire.
Please be reminded to monitor your child's health and be alert. Preventing the spread of COVID 19 is similar to what is done with the common cold or flu. These precautions include the following:
Cover sneezes and coughs with tissues or by coughing into the inside elbow. Please throw used tissues in the trash immediately.

Wash hands frequently with soap and water for 20 to 30 seconds. If soap and water is not available, use an alcohol-based hand sanitizer.

Avoid touching your eyes, nose, or mouth as these actions accelerate the spread of germs.

Stay a minimum of three feet away from people who are sick, and stay home from work or school if you are sick or have a fever.

Seek assistance from a physician or health professional if you experience symptoms that cause concern.
---
The following websites will provide additional information on COVID19:
---
We will continue to update you as information becomes available.