Ring Ceremony for Middie XC Champion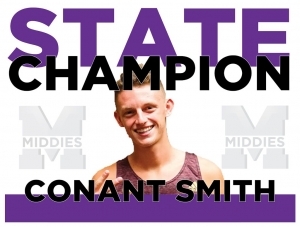 On Friday, February 8, during halftime of the Boys Varsity Basketball game that begins at 7:30 PM in Wade E. Miller Arena, Middletown High School will honor OHSAA Boys D1 Cross Country State Champion Conant Smith.
"Conant is a restless worker. Ever since he found [cross country] during his Middle School years, he's been determine to be the best in his sport," said Aaron Zupka, Director of Athletics. "You could see Conant had tremendous potential from the start and high expectations. The pressure or hype never affected him and he stayed the course during all four years of high school until he reached his goal of being a state champion."
Smith is a senior and committed to Arizona State last year to run Cross Country. He will begin attending the university in the fall.
--
WHAT:
Conant Smith's ring ceremony will take place at the Wade E. Miller Arena during halftime of the HS Boys Varsity Basketball Game. All visitors should enter through the Middletown High School entrance. The presentation will begin with a special performance from the Middletown HS Cheerleaders, then proceed with the ring ceremony to honor Conant Smith's championship run in the 2018 OHSAA Boys D1 State Championship.
WHERE:
Middletown High School
Wade E. Miller Arena
Middletown, OH 45042
WHEN:
Fri., Feb. 8, 7:30 PM
WHO:
State Champion, Conant Smith
Middletown Athletic Director, coaches
Friends, fans, family
Athletic Accomplishments:
OHSAA Boys Division 1 State Championship, 2018
GMC Champion 2018
District Champion 2018
Regional Champion 2018
State Runner Up 2017
Arizona State University Commit
Nike Midwest National Championships 8th place 2017
Ran a personal best and a course record 14:56.10 at the 2018 GMC Championships