NTE Energy Partners with Middletown Schools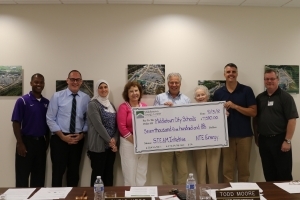 The Middletown City School District (MCSD) announces a new partnership between the district and NTE Energy. This district-wide partnership will be both financial and curriculum specific.
At the Aug. 13 Middletown Board of Education meeting, Chris Urso, MCSD Board President, accepted a $7,500 check from NTE Energy. This amount is one part of the new district-wide partnership with NTE Energy and it exemplifies industry confidence in Middletown City Schools and its students.
"NTE is thrilled to partner with the Middletown School District with their STEAM program. Middletown Energy Center was our first development effort and first energy center online. Appropriately, NTE is piloting our program for partnership in education right here in Middletown. With the Middletown School's STEAM program, NTE will provide students an authentic, supplemental learning experience targeted towards careers in the energy industry," said Josh Brooks, Project Developer, NTE Energy.
To enhance the 21st century relevance of its curriculum significantly, the Middletown Schools Curriculum Department is building and adding to its student offerings an innovative portfolio of STEAM pathways, business partnerships, and real-world industry experiences for students.
Middletown Middle School students will participate in interactive workshops with NTE Energy, attend field trips to the new Middletown NTE Energy Center to observe NTE's innovative process to harness steam and produce additional energy, and explore how NTE's clean energy is changing the grid. Further, NTE Energy will sponsor a series of Modules with the Middletown Curriculum Department. These innovative Modules will supplement classroom lessons with practical, real world applications, best positioning Middletown students for placement in an exciting and crucial industry.
"Partnering with NTE Energy is one way we can provide our Middle School students with real world experience, exposing them to careers they might not otherwise know exist. By sparking the students' interests at the middle school level, they will be better equipped to decide on a high school pathway," said Fran Morrison, MCSD Sr. Director of Curriculum and Innovation.
The MCSD Board of Education along with the district's administration are confident the NTE Energy partnership will keep its students as well as Ohio competitive by implementing future forward-thinking, innovative learning models.
"On behalf of the Middletown Board of Education, I'd like to thank NTE Energy and the Middletown Administration for working to bridge the gap between schools and industry," said Chris Urso, President of the Middletown Board of Education. "We look forward to the positive impacts these committed NTE Energy employees will have on our students' futures, and indeed our region's future."
Top officials from NTE Energy attended the meeting, including: Tim Eves, Senior Vice President, Development, Josh Brooks, Project Developer, Cindy Ashley, Office Administrator, Andy Duncan, Plant Manager, NAES, and Dan Truax, Operation Lead, NAES.