New year, new roles: Middletown City Schools Announces Leadership Roles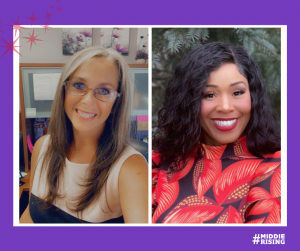 Middletown City School District (MCSD) veteran school building administrator Keri Hensley will take over the role of Student Services Coordinator, and experienced administrator and educator Anedra Million will fill Hensley's role as interim principal at Wildwood Elementary. Hensley replaces Kevin Casey who is now the Madison Local School District Director of Student Services.
"With all the changes happening with the start of school, we're happy our quality of leadership will stay the same as Dr. Million takes over the principal role for Mrs. Hensley at Wildwood Elementary and Mrs. Hensley takes over Mr. Kevin Casey's role in the Student Services Department," said Debbie Houser, MCSD Senior Director of Human Resources.
Both Hensley and Million have been in the Middletown district for over 20 years and colleagues at Wildwood Elementary since 2011.
Hensley has worked at MCSD as an elementary teacher, a teacher leader, and most recently as the principal at Wildwood Elementary. As she transitions over to the student services coordinator role, she will work alongside Dana Miller, Student Services Coordinator, and Debbie Sander, Senior Director of Student Services.
"I have been blessed to serve our families in Middletown for 22 years as a teacher, instructional coach, and building principal. I feel very fortunate to have the opportunity to continue to serve our families in the capacity of Student Services Coordinator. I believe in the notion of #MIDDIERISING and I am proud to call Middletown City Schools my home," said Hensely.
Million has experience as both a teacher and a building administrator in MCSD. While a Wildwood 2nd grade teacher since 2011, last semester Million took on the assistant principal role at Wildwood Elementary. She has also served in the assistant principal role at Middletown Middle School, Amanda Elementary, Roosevelt Elementary, and Wildwood Elementary.
"This is the year to reimagine education, to open hearts and minds, to see beyond what makes you comfortable. This year is about rearranging the table so that all voices and perspectives are honored and heard. It's about being courageous enough to see beyond now," said Million.
Hensley earned her Bachelor degree from Shawnee State University and her Master of Education from University of Rio Grande and a second Master of Arts in Educational Leadership and Administration from Concordia University Chicago. Million earned her Bachelor and Masters degree from Miami University and she recently graduated with her Doctor of Education from Miami University and Oakland City University with a concentration in Curriculum and Instruction.