Middletown Wins International Award (2019)

About ISTE
ISTE is a nonprofit organization that works with the global education community to accelerate the use of technology to solve tough problems and inspire innovation. Our worldwide network believes in the potential technology holds to transform teaching and learning.
ISTE sets a bold vision for education transformation through the ISTE Standards, a framework for students, educators, administrators, coaches and computer science educators to rethink education and create innovative learning environments. ISTE hosts the annual ISTE Conference & Expo, one of the world's most influential edtech events. The organization's professional learning offerings include online courses, professional networks, year-round academies, peer-reviewed journals and other publications. ISTE is also the leading publisher of books focused on technology in education. For more information or to become an ISTE member, visit iste.org. Subscribe to ISTE's YouTube channel and connect with ISTE on Twitter, Facebook and LinkedIn.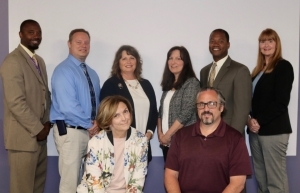 In Good Company: ISTE Selects Educators from Around the World for 2019 Awards
Middletown Schools Wins Distinguished District Award
WASHINGTON – The International Society for Technology in Education (ISTE) has combed through an impressive set of nominations to select its 2019 award winners. From innovative school districts to educators making a difference, they all exemplify the organization's goal to accelerate the use of technology to solve tough problems and inspire innovation.
The winners will be officially recognized at ISTE 2019, the most influential edtech conference of the year where "bold educators activate change," in Philadelphia, Pennsylvania, June 23-26.
"For 40 years ISTE has been recognizing educators for their incredible impact.The 2019 award winners exemplify the way an individual or team can inspire us with new approaches and ideas that change the lives of students," said ISTE CEO Richard Culatta. "Beyond congratulating them on their achievements, we look forward to highlighting their successes at the ISTE Conference in Philadelphia."
Below are the award descriptions and the winners:
ISTE Impact Award
This new award recognizes individuals and organizations who do outstanding work to improve learning for all students and have a major impact as an example to the field of education. The awardees are:
Sophia Mendoza, director, Instructional Technology Initiative, Los Angeles Unified School District, Los Angeles, California

Betsy Corcoran, co-founder and CEO, EdSurge, Burlingame, California

Jennie Magiera, founder, Our Voice Academy and chief program officer, EdTechTeam, Chicago, Illinois
ISTE Distinguished District Award
ISTE selects districts that:
Demonstrate effectiveness and innovation in the use of educational technology.

Ensure equitable, accessible and appropriate learning opportunities for all students, aimed at improving outcomes and increasing engagement.

Exhibit a progressive mindset when it comes to challenges in education and embrace new ideas and act on them.
This year's awardees are:
St. Vrain Valley School District, Longmont, Colorado
Kahle Charles, executive director of curriculum

Joseph McBreen, chief technology officer

Michelle Bourgeois, director of learning technology

Patrick Mount, director of information technology

Zac Chase, district language arts coordinator
Flagler County Schools, Palm Coast, Florida
James Tager, superintendent

Ryan Deising, executive director of instructional and operational innovation

Kristin Harrington, educational technology coach

Maria McGovern, district technology coordinator

Joey DiPuma, coordinator of innovation

Amy Kopach, educational technology coach

Teresa Phillips, educational technology coach
Middletown City School District, Middletown, Ohio
Marlon J. Styles, Jr., superintendent

Fran Morrison, senior director of curriculum and innovation

Debbie Sander, senior director of student services

Carmela Cotter, principal

Jenny Dennis, principal

Kee Edwards, principal

Michael Valenti, principal

Craig Campbell, technology coordinator

Melissa Prohaska, instructional technology coordinator
ISTE Professional Learning Network (PLN) Awards
These awards honor individuals who have shown dedication and achievement in the focus areas of each ISTE PLN. The categories and honorees are:
Arts and Technology Network Award: Cathy Hunt, creative arts educator, McAuley College, Queensland, Australia

Computer Science Network Award: Alfred Thompson, computer science teacher, Bishop Guertin High School, Nashua, New Hampshire

Digital Citizenship Network Award: Amy Eakin, director of technology, Northwest Arctic Borough School District, Kotzebue, Alaska

Digital Equity Network Award: Jason Trinh, hybrid-teacher digital lead learner, Toronto District School Board, Toronto, Canada

Early Learning Network Award: Analucía Tejada, ECE technology teacher and technology curriculum lead, Colegio Interamericano de Guatemala, Guatemala City, Guatemala

Edtech Coaches Network Award: Michelle Palmieri, technology integration teacher, Pine Plains Central School District, Pine Plains, New York

Education Leaders Network Award for Exemplary Leadership: Wiley Brazier, V, principal on assignment for technology integration, East Baton Rouge Parish School System, Baton Rouge, Louisiana

Games and Simulations Network Excellence Award: Cynthia Calongne, professor, Colorado Technical University & CCCS, Colorado Springs, Colorado

Global Collaboration Network Award: Tracey Winey, teacher librarian, Poudre School District, Fort Collins, Colorado

Inclusive Learning Network Outstanding Educator Award: Kendra Grant, educational consultant, Mississauga, Ontario, Canada

Independent and International Schools Network Independent School Educator Award: Lauren Marold, educational technology coordinator, Greenhill School, Addison, Texas

Independent and International Schools Network International Educator Award: Raymond Mitchel Africa, science and design educator, Manila Xiamen International School, Xiamen, China

Interactive Video Conferencing Network Educator Award: Nicole Lakusta, curriculum educational technology facilitator, Parkland School Division #70, Stony Plain, Alberta, Canada

Interactive Video Conferencing Network Informal Educator Award: New York State Distance Learning Consortium, New York

Librarians Network Primary Award: James Allen, teacher librarian/EDhub director, Eminence Independent Schools Eminence, Kentucky

Librarians Network Secondary Award: Tiffany Whitehead, director of library, Episcopal School of Baton Rouge, Baton Rouge, Louisiana

Literacy Network Award: Sirhajwan Idek, teacher, Keningau Vocational College, Keningau, Sabah, Malaysia

Learning Spaces Network Outstanding Learning Space Designer Award: Brian Seymour, director of instructional technology, Pickerington Local School District, Pickerington, Ohio

Mobile Learning Network Award: Helen Crompton, associate professor, Old Dominion University, Norfolk, Virginia

Online Learning Network Award: The Chinook Cyber School Team, Chinook School Division Swift Current, Saskatchewan, Canada

STEM Network STEM Excellence Award: Jorge Valenzuela, educational coach, Lifelong Learning Defined, Inc., North Chesterfield, Virginia

Technology Coordinators Network Award: Fred Laudadio, executive director of learning services and technology, McHenry Elementary School District 15, McHenry, Illinois

Teacher Education Network Award for Excellence in Teacher Education: Tim Green, professor of educational technology and teacher education, California State University, Fullerton, Fullerton, California

Virtual Environments Network Pioneer of the Year Award: Valerie Hill, library director, Community Virtual Library, Seattle, Washington