Middletown Schools to Build Addition on Central Academy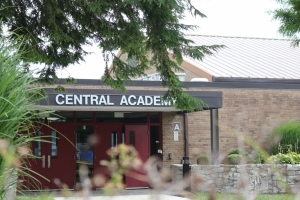 Middletown City School District (MCSD) Board of Education last night passed a resolution to build an addition onto Central Academy.
At the September 24 BOE meeting, discussion focused on building capacity due to new, innovative academic programming at the Middletown City School District's five neighborhood elementary schools. Adding onto Central Academy would allow the district to deliver new, innovative academic programs and environments to its students and provide educational space relief for its K-5 buildings. Due to the central location of the building and the fact that the district already has busing serving this facility from the whole district, Central Academy is the most fiscally responsible option with a budgeted $10 million for the project. The $10 million project does not require a bond levy.
"In May 2014, the Middletown voters passed a bond issue for $55 million. Through our partnership with the State of Ohio, we only needed to utilize $45 million for the new Middle School and modernized High School. This means we have $10 million we can use on permanent improvement projects such as adding to an existing building," said Randy Bertram, Treasurer at MCSD. "The cost of the project including architect fees, construction management, and the actual construction is limited to the $10 million."
In the four years since the bond issue passed, taxpayers have only paid on $45 million instead of the $55 million authorized. When Middletown City Schools sells the additional $10 million to complete their modernized building projects, property owners, starting January 2019, can expect an annual tax increase of approximately 1 mill or $35 annually per $100,000 of valuation for the life of the bonds.
"In line with Middletown City School District's strategic plan, we want every child to receive an exceptional learning experience. By adding on to Central Academy, we will be able to give more children access to innovative programming," said Chris Urso, MCSD Board of Education President.
The MCSD Curriculum and Innovation Department will form a MCSD design team tasked with delivering a new, innovative academic program offered at Central Academy.
"Expanding our innovative programming at the elementary level is the next step of the Middie Modernization Movement. We've asked the community to pivot forward and we're excited to do this together. Our kids deserve it," said Marlon Styles, MCSD Superintendent.
Construction will start in spring 2019 and the doors will open for students August 2020.