Middletown High School Names Russell Banks New Varsity Girls Basketball Coach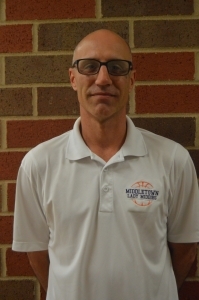 Middletown City School District today announced Russell Banks as the new girls varsity basketball coach at Middletown High School, pending board approval. Banks boasts many years coaching basketball, most recently as the Middies top varsity assistant girls basketball coach.
"I am so proud to introduce the next leader and head coach of our girls basketball program, Mr. Russ Banks. Our interview committee interviewed five strong candidates, but Coach Banks rose to the top quickly. Most of the Middletown community probably knows him very well as he has served on the staff of the Middies program for the last 14 years. Coach Banks brings a tremendous amount of passion, enthusiasm, and accountability to the job and he will push our student-athletes to be the best players and people they can be for their school and community," said Aaron Zupka, Athletic Director at Middletown High School.
Coach Banks has been involved in the Middie Girl Basketball program for the last 14 years and during that time he's also coached AAU Basketball (Middletown Express), Middletown High School track, and Middletown Middle School cross country. When he is not coaching, Banks is the head groundskeeper at Middletown City Schools with Sodexo, USA.
"I am very excited for this opportunity. I've been blessed to be around some great coaches the past 14 years. Coaches like Scott Dalton, Kelven Moss, and Kevin Aldridge. Each having something to learn and grow from as a coach. Being from Middletown and living here my whole life makes this special for me. This community has always had great love for its student athletes. We are going to give them a brand of basketball that our fans deserve and will be proud of. I am looking forward to the challenge and all that it brings," said Banks
--
PARENTS/GUARDIANS: On Wednesday, May 15 at 6 PM, Coach Banks will host an important girls basketball parent meeting. Please meet him in the MHS Cafeteria to go over the off season program.