Middletown High School Earns LEED Gold Certification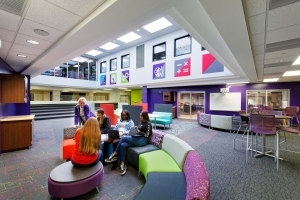 The newly-modernized Middletown High School in Middletown, Ohio, has received Leadership in Energy and Environmental Design (LEED®) for Schools Gold certification from the U.S. Green Building Council. Administered by the USGBC, LEED for Schools is a rating system that promotes the design and construction of high-performance green schools. The new Middletown Middle School, located on the same campus, received its' LEED Gold certification in 2018.
Designed by Fanning Howey, an integrated architecture, interiors and engineering firm, the $54 million high school modernization was co-funded by Middletown City Schools and the Ohio Facilities Construction Commission (OFCC). Sustainable strategies include:
Reuse and renovation of the existing building, plus additions, to create a flexible, modern, collaborative high school
Daylighting, by carving skylit atriums into the existing building to provide natural light to existing interior spaces
Shared boilers and thermal ice storage systems for both high school and middle school to minimize energy use
Campus site master planning that maximized open space, ensured storm water quality control, and provided public transport access.
"The sustainable design strategies used for Middletown High School make the school more environmentally-friendly, less expensive to operate and more conducive to student achievement," says Steve Wilczynski, AIA, executive director for Fanning Howey.
Middletown High School is Fanning Howey's 66th LEED certified school in Ohio and the firm's 75th LEED certified school throughout the nation.
About Fanning Howey
One of the nation's leaders in school design, Fanning Howey is recognized for partnering with educators to create innovative and inspiring learning environments. According to the U. S. Green Building Council, the firm is 4th in the world in the design of LEED-certified K-12 schools. Fanning Howey has offices in Celina, Ohio; Dublin, Ohio and Indianapolis, Ind.
For more information, visit www.fhai.com.