Middletown High School: Class of 2019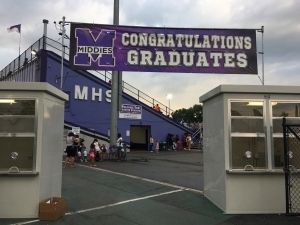 Tonight, June 4, 2019, Barnitz Stadium will be full of Pomp and Circumstance as the Middletown High School (MHS) Class of 2019 graduates. Three hundred fifty-five strong, we congratulate them for their success!
Mr. Rick Pearce will give the commencement address to the students, families, and Middie alumni. Mr. Pearce graduated MHS in 1981 before attending Miami University. Since graduating from MHS 38 years ago, Mr. Pearce now works tirelessly for the Chamber of Commerce, serving Middletown, Monroe, and Trenton. He works diligently to support the district's partnership with area businesses and his community service commitment to the youth of Middletown is legendary.
The Middletown High School administration chose Mr. Pearce as the 2019 MHS commencement speaker because he knows what it takes to succeed, especially when you dream big. Mr. Pearce's message will serve as an inspiration to this year's graduating seniors and the audience as a whole.
--
In the quest to further their education, the MHS students graduating Summa Cum Laude will attend the following schools: Barnard College of Columbia University, University of San Diego, University of Tennessee, University of Wisconsin-Madison, The Ohio State University (x5), University of Cincinnati, Baldwin Wallace University, University of Toledo, Miami University Middletown, Ohio University.
--
Graduating Seniors: 355
Top GPA: 4.432
Summa Cum Laude: 15 students
Magna Cum Laude: 15 students
Cum Laude: 38 students
President of the U.S. Award for Outstanding Academic Excellence: 68 students
President of the U.S. Award for Educational Achievement: 26 students
Branches of Military: Navy (x2) and Marines (x2)
College athletes: 16 students