Middletown City Schools Statement: TikTok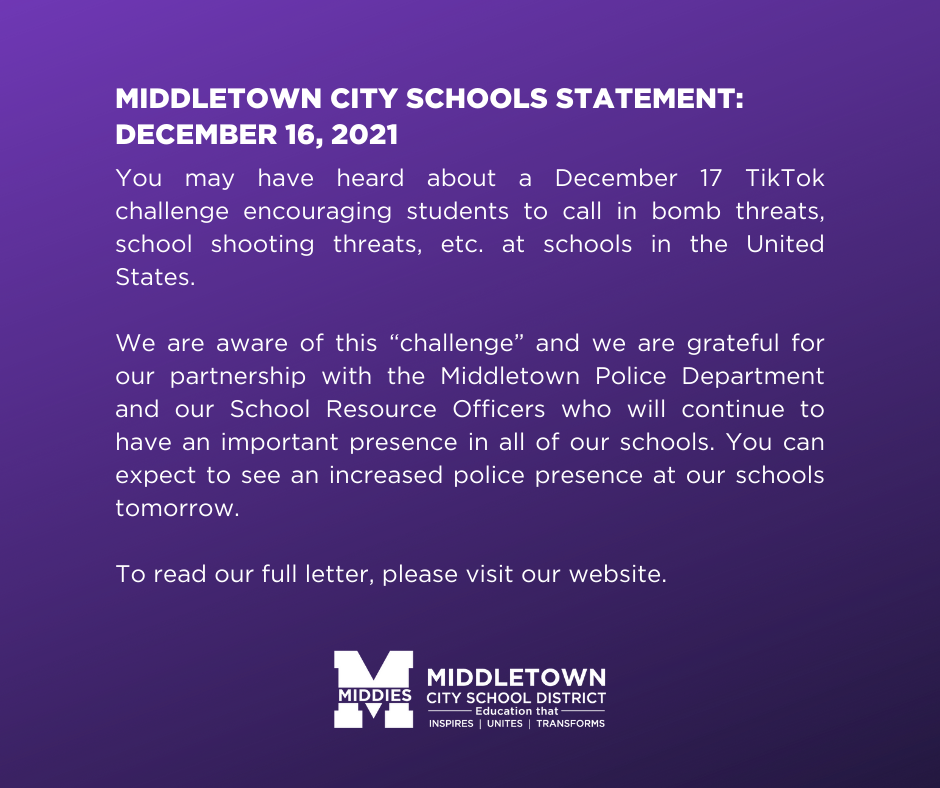 Dear Middletown City Schools families:
You may have heard about a December 17 TikTok challenge encouraging students to call in bomb threats, school shooting threats, etc. at schools in the United States.
We are aware of this "challenge" and we are grateful for our partnership with the Middletown Police Department and our School Resource Officers who will continue to have an important presence in all of our schools. You can expect to see an increased police presence at our schools tomorrow.
While we understand that this event is only a rumor, we also know that social media is a powerful tool which may be used to influence others, and we must remain vigilant about our student and staff's safety. Should this TikTok challenge directly impact any of our schools, we will take that threat seriously and work with local law enforcement to ensure the safety and security of our students and staff.
We ask that you monitor your student(s) social media accounts, talk to them about responsible and respectful cell phone use, and discuss the serious ramifications of participating in these "challenges" such as school disciplinary consequences as well as possible intervention by law enforcement.
We know that the vast majority of our students do the right thing every day and we thank them for showing Middie Pride and valuing their school culture.
The safety of our students and staff is always our first priority. Should you have any questions, please reach out to your student(s) principals. Thank you for your support and cooperation.
Sincerely,
Marlon Styles, Jr.
Superintendent
16 de Diciembre de 2021
Estimadas familias de las Escuelas de la Ciudad de Middletown:
Es posible que hayan escuchado sobre un desafío de TikTok del 17 de Diciembre que anima a los estudiantes a llamar en las escuelas de los Estados Unidos con amenazas de bomba, amenazas de disparos en la escuela, etc.
Somos conscientes de este "desafío" y estamos agradecidos por nuestra asociación con el Departamento de Policía de Middletown y nuestros Oficiales de Recursos Escolares, quienes continuarán teniendo una presencia importante en todas nuestras escuelas. Puede esperar ver una mayor presencia policial en nuestras escuelas mañana.
Si bien entendemos que este evento es solo un rumor, también sabemos que las redes sociales son una herramienta poderosa que puede usarse para influir a otros, y debemos permanecer atentos a la seguridad de nuestros estudiantes y del personal. Si este desafío de TikTok afecta directamente a cualquiera de nuestras escuelas, tomaremos esa amenaza en serio y trabajaremos con las fuerzas del orden locales para garantizar la seguridad de nuestros estudiantes y del personal.
Le pedimos que controle las cuentas de las redes sociales de su(s) estudiante(s), hable con ellos sobre el uso responsable y respetuoso del teléfono celular y discuta las serias ramificaciones de participar en estos "desafíos", como las consecuencias disciplinarias de la escuela y la posible intervención de la policía.
Sabemos que la gran mayoría de nuestros estudiantes hacen lo correcto todos los días y les agradecemos por mostrar Middie Pride y valorar su cultura escolar.
La seguridad de nuestros estudiantes y personal es siempre nuestra primera prioridad. Si tiene alguna pregunta, comuníquese con los directores de sus estudiantes. Gracias por su apoyo y cooperación.
Atentamente,
Marlon Styles, Jr.
Superintendente