Middie Meal Pick-Up Information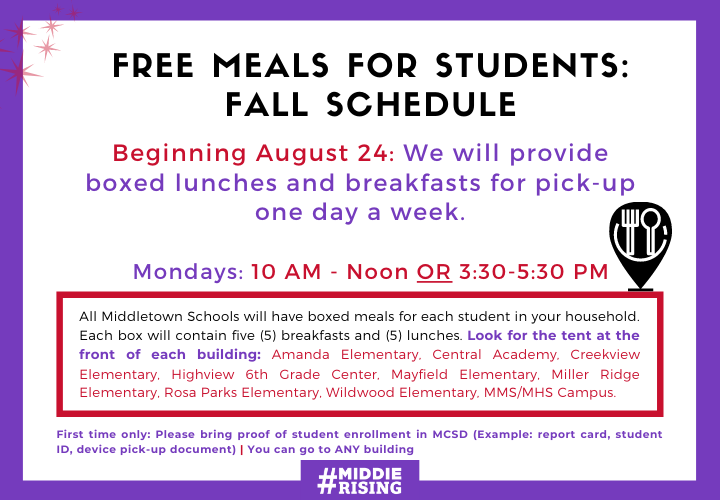 (Desplácese hacia abajo para español.)
Every Monday (beginning August 24) from 10 AM - Noon OR 3:30 PM - 5:30 PM, ALL Middletown Schools will have boxed meals for each student in your household. Each box will contain five (5) breakfasts and (5) lunches.
Look for the tent at the front of each building: Amanda Elementary, Central Academy, Creekview Elementary, Highview 6th Grade Center, Mayfield Elementary, Miller Ridge Elementary, Rosa Parks Elementary, Wildwood Elementary, MMS/MHS Campus.
*First time only: Please bring proof of student enrollment in MCSD (Example: report card, student ID, device pick-up document).
*You can go to ANY building.
*Labor Day: We will not have pick-up on Labor Day Monday. Pick up your meal box on Tuesday, September 9.
COMIDAS GRATIS PARA ESTUDIANTES: HORARIO DE OTOÑO
A PARTIR DEL LUNES 24 DE AGOSTO
Todos los Lunes (a partir del 24 de Agosto) de 10 AM hasta el mediodía o de 3:30 pm hasta las 5:30 PM TODAS las escuelas de Middletown tendrán comidas en caja para cada estudiante de su hogar. Cada caja contendrá cinco (5) desayunos y (5) almuerzos. Puedes recogerlo en cualquiera de las escuelas.
Busque la carpa en el frente de cada edificio: Escuela Primaria Amanda, Central Academy, Escuela Primaria Creekview, Centro de 6to Grado Highview, Escuela Primaria Mayfield, Escuela Primaria Miller Ridge, Escuela Primaria Rosa Parks, Escuela Primaria Wildwood, Campo de MMS/MHS.
Solo la primera vez: por favor traiga prueba de la inscripción del estudiante en MCSD (Ejemplo: boletin de calificaciones, identificación del estudiante, documento para retirar el dispositivo).
Puedes ir a cualquier edificio.
Día del Trabajo: No tendremos recogida el Lunes del Día del Trabajo. Recoja su caja de comida el Martes 9 de Septiembre.