MHS to Retire Jackie Robinson's #42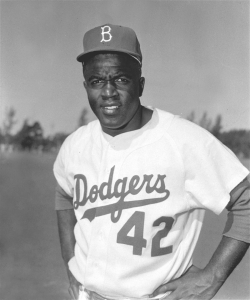 Wednesday, April 10: Middletown High School to Retire Jackie Robinson's Jersey Number
At the Middletown High School v. Fairfield High School baseball game, both teams will retire Jackie Robinson's #42 jersey number. These two schools are the first in the area to retire Mr. Robinson's number.
To promote the formative values of good character among young citizens, the Nuxhall Foundation's Joe Nuxhall Character Education Fund is partnering with the Cincinnati Reds Community Fund to underwrite a program in which cooperating high school and college teams (baseball & girls softball) will retire Baseball Hall Of Famer Jackie Robinson's #42.
Initiated by Cincinnati Reds scout Marlon Styles Sr., the program will launch with a ceremony at 4:40 PM Wednesday, April 10 before the Fairfield-Middletown varsity baseball game at Lefferson Park (2201 S. Breiel Blvd., Middletown OH 45044).
Jackie Robinson espoused Courage, Determination, Teamwork, Persistence, Integrity, Citizenship, Justice, Commitment, and Excellence as core values. The initiative encourages promotion of these values by all parties involved in this regional character-building effort.
Robinson's declared "nine characteristics to live by" are printed on weatherproof signs for display by participating schools. The first 100 Greater Cincinnati area baseball and girls' softball programs that participate in the program will receive Jackie Robinson signs to place on their schools' backstops. Each school will also receive 25 complimentary Reds tickets for its varsity team.