May 17: Middie Olympics will open Middletown's new stadium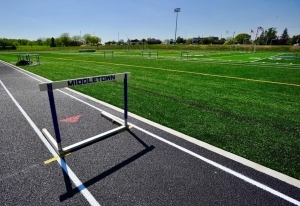 *IN CASE YOU MISSED IT*
Journal-News: Middie Olympics will open Middletown's new stadium
In this latest article by Journal-News Staff Writer Michael D. Clark, we read about the brand new track and field on the Middletown High School and Middle School campus. On Friday, May 17, the Middie Olympics will be the first school event on the brand new, state-of-the-art track and field. Plus, the Middie Meal Machine, the district's food truck, will make its debut!
--
"For the first time in three years, the annual sporting event showcasing special needs students in Middletown will return to the district's high school campus…
"The May 17 event, which used to be called the Middletown Special Olympics but is now the "Middie Olympics," will be the first major sporting event held at the city school's new track and field stadium on the high school campus…
"'The Middie Olympics is a great event for our population of students identified with special needs and disabilities, and their families. This non-competitive event is a celebration of abilities and comradeship,' said Rob Hamann, Highview 6th Grade assistant principal and event organizer…
"'With the completion of the new track and field facility at Middletown High School, our annual event will move to the new location. The (new) running track will enhance the experience for all students and especially students who have assistive technology for ambulatory needs,' said Hamann…
"Surrounding the event...are games, activities, information tables to entertain and assist families and care-givers of the youngsters.
"The event is open to the public at no cost and will run from 9:45 a.m. to 1 p.m. at the new stadium at 601 North Breiel Ave…
"Those attending are advised to be there at the start to see a skydiving team parachute on to the new, artificial turf field to open the event…
"Middletown Schools Spokeswoman Elizabeth Beadle said 'we are so excited to finally open the brand new track and field complex to our students and community...The completed track and field on Middletown's 7-12 grade campus is such a great finishing touch for the entire building project'...said Beadle.."