Journal-News: Recruiting homegrown talent: A success story from Middletown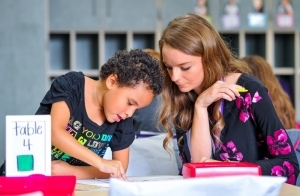 In a recent article, Journal-News Staff Writer Rick McCrabb writes about his visit to Wildwood Elementary, specifically Mrs. Carrie Parson's kindergarten class. Mrs. Parsons is a 2014 Middletown graduate who left the City of Middletown for college with dreams to return and teach in her hometown. In Middletown City Schools, we believe in our teachers and we celebrate our homegrown talent. Welcome back to Middletown, Mrs. Parsons!
To read the full article, click here.
--
Recruiting homegrown talent: A success story from Middletown
September 14, 2018
By Rick McCrabb, Journal-News Staff Writer
PC: Nick Graham, Journal-News Photographer
"Sometimes when our career ambitions are realized, we find out they're not what we wanted. Other times, our dreams and destinations line up perfectly…
"When Carrie Kienlen was a senior at Middletown High School in 2014, and she was interviewing for college scholarships, she told the committee that after she earned her college degree, she would return to her roots…
"But this story is more than about a local district hiring an elementary school teacher…
"It's about a local girl leaving town to get her degree, then returning to Middletown to begin her career...A city can only thrive if it recruits its best and brightest homegrown talent...
"Carrie and [her husband] have settled in Middletown and are becoming active in the community…
"It also didn't hurt being the daughter of a teacher. She spent many summer mornings helping her mother, a teacher for 38 years, set up her second-grade classrooms, and in later years, visiting her mother after school…
"Parsons called her mother 'my biggest role model.'...
"In the classroom, Parsons acted like a veteran instead of a rookie teacher. She displayed the perfect blend of affection and discipline with her students. She hugged them, corrected them…
"Wildwood Principal Keri Hensley spent part of the morning observing Parsons on her second day on the job. She left the classroom impressed, but not surprised. When Hensley and other kindergarten teachers interviewed Parsons for the position, they quickly realized Parsons had 'it,' that factor they don't teach in college…
"The hiring committee knew that because Parsons was a Middletown native, she understood some of the challenges the district faces. One of the biggest is the economic disparity in Middletown. There are children from affluent families learning next to students who don't know if they will eat dinner…
"None of this will surprise Parsons. She lived it her entire time in the urban district…
"'I'm so glad to be back in Middletown,' Parsons said while supervising recess. 'It's been all that I can imagine.'...
"Being a teacher in the same district where she once was a student has 'always been in my heart. This is my family, the community that raised me,' she said…"
To read the full article, click here.