In a recent article, Journal-News Staff Writer Michael D. Clark writes about the exciting moment the Middletown High Sch

Back To District News
In a recent article, Journal-News Staff Writer Michael D. Clark writes about the exciting moment the Middletown High Sch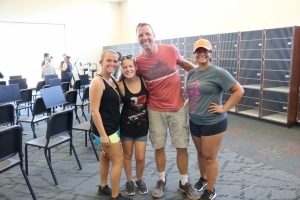 In a recent article, Journal-News Staff Writer Michael D. Clark writes about the exciting moment the Middletown High School band students see their new band room for the first time. Students and band directors alike were amazed at the vast transformation from a windowless, dull, and cramped space, to an open, bright, and versatile practice room. David Leisten, MHS marching band director, is ready to see what a new space can do for his 130 member Marching Middies.
To read the full article, click here.
--
A high note of excitement: Middletown students tour new band room
July 28, 2018
By Michael D. Clark, Journal-News Staff Writer
"A crescendo of excitement swept over Middletown High School marching band members this week as they were surprised with a first look at a new band room. Open, airy and flooded with natural light from giant windows, the new band practice room is a stark contrast to the windowless, old gym where they used to practice..."
"It is ginormous and really great," said senior band member Chloe Elam…
"The new practice space is part of Middletown Schools' historic...transformation of the old high school – which is being renovated and expanded – and a new middle school adjacent to the high school…
"It's great and they are really excited. This is just unreal and really beautiful," said [David] Leisten, [Marching Band Director]. The positive impact of the new space is incalculable…we will really be able to teach at a high level with the technology, acoustics and it's versatile," said Leisten…
"The leader of Middletown Schools made sure he was there for the first tour…[said Superintendent Marlon Styles Jr.]'This is what we all dream for as educators – kid moments'...
"'We appreciate our community and more importantly we are just grateful to give our students such a classy environment to where they can showcase their skills as future (musical) artists," said Styles.."
"The new Middle School and upgraded high school will open for the 2018-2019 school year on Sept. 4. Public tours of the new school facilities will be arranged with dates and times to be announced soon, said school officials."
To read the full article, click here.