ICYMI Journal-News: Wide-eyed Middie teens start school year in impressive new buildings

Back To District News
ICYMI Journal-News: Wide-eyed Middie teens start school year in impressive new buildings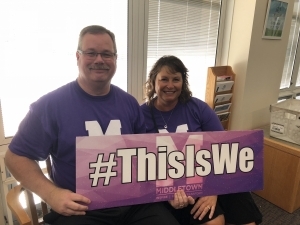 In a recent article, Journal-News Staff Writer Michael D. Clark writes about the exciting moment the Middletown High School and Middle School students see their new, modern, finished buildings for the first time. The two buildings were mostly kept shut over the summer as the construction crew completed finishing touches, causing curiosity and excitement to build!
To read the full article, click here.
--
Wide-eyed Middie teens start school year in impressive new buildings
September 4, 2018
By Michael D. Clark, Journal-News Staff Writer
"Middletown Middle School students traveled through a time warp Tuesday as they were transported from attending what was once Butler County's oldest school to now its newest....
"And next door, Middletown High School students were greeted on the first day of school with a radically renovated and expanded school building…
"The middle school students' previous school, which was opened in 1923, was the former Middletown High School before serving its final years as the district's middle school and is now scheduled for demolition…
"Superintendent Marlon Styles Jr. spent some of the early morning fist-bumping the wide-eyed middle school teens as they entered their newly built school…
"'Our students are back and our staff is excited and looking forward to a great first day…,' said Styles. 'We are just so thankful to our community for such a fantastic facility…,"which features some of the most modern learning spaces in Southwest Ohio…
"The opening of the new school year caps off a recent series of school and community events that demonstrated the new partnership between the city and its school system.
"Last week saw a historic and enthusiastic convocation that filled most of the district's new Wade E. Miller Arena with school staffers clad in Middletown Middie purple T-shirts. The pep rally atmosphere included a stirring speech by Middletown City Manager Doug Adkins that hit on the shared community theme Styles has been advocating…
"Emily Donner, a seventh grade language arts teacher, taught at the old middle school for 16 years and said the new building couldn't be any more different…
"'It has been utterly amazing,' said Donner as she greeted students walking into one of the new school's open air, naturally sunlit learning pods featuring comfortable furniture.
"'Looking out my windows and actually seeing green space and light and sun, it's so amazing. The students are utterly amazed. Their eyes were so wide,' she said…
"And high school students got their own dose of newness…
"Senior Shadon Morris said, 'when I first came in it I was, like, wow....There's a lot more space and more color to it all… My classmates think it's really impressive…"
Middletown High School Principal Carmela Cotter said students are impressed…'There were a lot of 'oh my goodness I get to go to school here,' she said."
To read the full article, click here.