ICYMI Journal-News: Middletown Schools' first on-campus clinic now open to all students

Back To District News
ICYMI Journal-News: Middletown Schools' first on-campus clinic now open to all students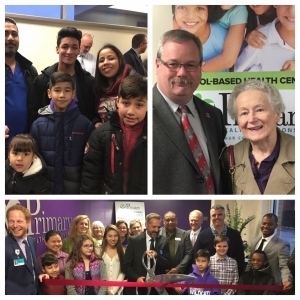 Journal-News Staff Writer Michael D. Clark attended the Middletown City School District's School-Based Health Center Grand Opening. Primary Health Solutions, a Butler County based organization that operates Federally Qualified Health Centers, has partnered with Middletown Schools, and several donor organizations to establish a school based health center for the district.
School-based healthcare can serve students differently, based on need. Statistics show that teens are the least likely to get the recommended health services. Medical services include immunizations, sports/work/annual physicals, asthma or other chronic disease management and acute care for sick or injured students. Mental Health services will be based on unique client need. Vision services will include comprehensive eye examinations and the prescribing and dispensing of glasses if necessary. Dental services will include preventative exams, cleanings, x-rays and corrective treatment as needed.
The purpose of the center is to keep students in school and ready to learn. Students will receive care during the school day, without requiring the parents to leave work and lose wages. The center will be open year-round and provide services to the community - not just the students from Middletown City Schools.
To read the full article, click here.
November 20, 2018
By Michael D. Clark, Journal-News Staff Writer
"Middletown Schools opened the first, on-campus medical clinic in its history Monday and school officials said healthier students will help improve student learning…
"The 4,200-square-foot Primary Health Solutions health center...will provide medical, dental, vision and behavioral care to all students in the Butler County city's other schools…
"Besides students, medical services will also be provided to student families and school staffers…
"A healthy student is a better performing student, said Middletown Schools Superintendent Marlon Styles Jr…
"'Health care and life-long healthy habits is part of our vision in Middletown Schools and this is our community's investment in our students,' said Styles…
"Middletown is the third school system in Butler County to open an on-campus medical center in the past two years — all with the help of Primary Health Solutions and various local health care providers…
"Medical care partners in the clinic include...Deaconess Associations Foundation, One Sight and Interact For Health…
"'We are investing in young people and this (center) will help young people succeed,' Chris Urso, president of the Middletown Board of Education, said…
"Urso said the timely transportation of ill students from Middletown's other schools to the clinic is a vital component of the new operation…
"'This is a huge investment in our kids and accessibility is key,' he said…
"The district has transformed its dated high school campus — expanding and renovating the high school and adding the medical center's facility with main-door access behind the school and also making it accessible from within the high school…
"'This is our district's and our community's way of stepping up to the plate to make sure our students can come to school consistently and be healthy while they are here,' said Styles."
--
To read the full article, click here.