ICYMI Journal-News: Middletown School Bus Driver Saves Life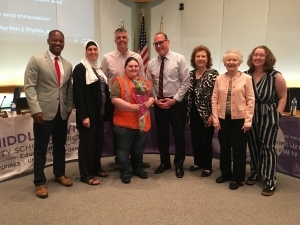 *IN CASE YOU MISSED IT*
In this article, Journal-News Staff Writer Michael D. Clark shares a heroic story about one of Middletown City School District's bus drivers. Thanks to Kim Plott, bus driver, a student's life was saved due to her quick thinking and calmness in a scary situation. Read all about it below!
To read the full article, click here.
This Middletown school bus driver saved a student's life.
May 7, 2019
By Michael D. Clark, Journal-News Staff Writer
"School bus driver Kim Plott makes sure to drive at safe, controlled speeds, but a choking child in the back of her bus had her dashing into action...
"The Middletown school bus operator's quick moves last month saved a student's life as she was able to dislodge a piece of candy from the choking student's throat by performing the Heimlich maneuver...
"Last week Plott was honored by the Middletown Board of Education last week during its public meeting.
Plott...said she sometimes freezes up 'in tense situations like that'...But she didn't...
"'I was taught the Heimlich maneuver and it really came in handy,' she said…
"Keith Harms, area director of safety for Petermann, joined Plott at the board meeting in honoring her bravery…
"'This (school bus driving) can be a very tough business and very stressful. Thank you so much Kim for your actions that day. We are very, very proud of you,' said Harms...
"Chris Urso, president of the school board, said 'you responded like a hero...You were brave and you were calm. We are grateful you were on that bus on that day,' said Urso."