Happy Retirement, Middies!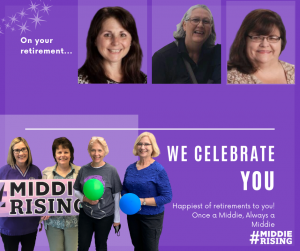 Cindy Higgins
Ms. Higgins has been serving in Middletown Schools for 32 years, most recently at Amanda Elementary. Her greatest memories will always be the interactions with students because "no two days are ever the same." She's right, and now ours days will never be the same without you, Cindy. Thank you for your dedication to the district and congratulations on an exceptional career here in Middletown!
Deanne Wilhelm
Ms. Wilhelm has been with the district for over 32 years teaching first and second grade. Her affinity for expressing creativity propelled her to engineer positive learning experiences for her students in hopes that they, too, would express their own creativity. Deanne believed that, "Students may not always remember what you taught them, but they will remember how you made them feel." Thank you, Ms. Wilhelm, for your unwavering devotion to our students and their future!
Tracy Parks
Ms. Parks has served Middletown Schools for 35 years and witnessed many facets of the district. Likewise, she has seen the growth of many students! Reveling in the enlightenment of students was her greatest joy. Tracy said, "It is wonderful to see their faces light up when they understand what you're saying." We thank you for brightening our days, too, Ms. Parks!
Leslie Hicks
Ms. Hicks has been 'sharing the love of music' with the Middletown Schools for 32 years. She has had the opportunity to serve in 11 different buildings over the years. More importantly, she cherishes the relationships she's formed within them throughout her illustrious career. Thank you, Ms. Hicks, for your incredible influence on our students and we hope you continue to share the love of music!
Cindy Centers
Ms. Centers has dedicated 23 years of teaching to the Middletown Schools. In her questionnaire, Cindy said, "The most important thing I have learned as a teacher is that every student has a gift. That gift might be academics or physical ability or whatever it is. If you take the time to discover that gift, and nourish it, that student will grow in your classroom." Ms. Centers we could not be more thankful for you sharing your gift with our students. They are better for it and we are too!
Ruth C. Muenchenbach
Ms. Muenchenbach leaves Middletown Schools after 27 years. She leaves her fellow teachers a few words of wisdom: Always be a good listener. Your kids need a person they can talk to and they will truly appreciate you lending them your ear, time and support. Congratulations on capping off an impressive career and we hope you continue to create more memories for yourself!
Kathryn Pyle
Ms. Pyle has been with Middletown Schools for 31 years. She has taught 6th grade science, math, and social studies. Thank you, Kathryn, for your being a model example of consistency for our students and being an instrument of success to their futures. We wish you success and happiness on this next chapter of your life!