Get to Know Our Elementary Counselors: Part 7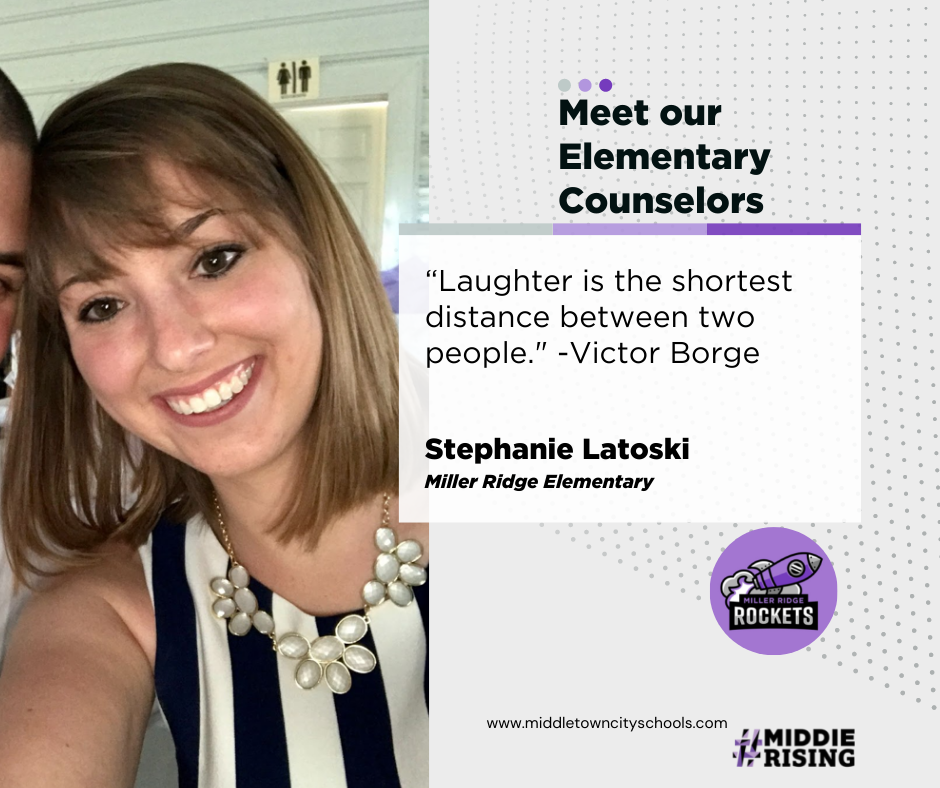 Get to Know Our Elementary Counselors!
Did you know this school year we were able to hire elementary counselors for every elementary school? In the past, our counselors were shared between school. Thanks to ESSER I and II, we allocated funding to provide services district wide so all students have access.
We are fortunate to have a counselor in every school building to support each and every one of our students. Our counselors help students find success, discover their dreams, and rise tomorrow.
Name: Stephanie Latoski
School building/Grade: Miller Ridge
Subject Area: School Counselor
College(s): Miami University of Ohio 2014, Xavier University 2018
Hometown: Columbus, Ohio
Tell us a little about yourself and your family:
I was born and raised in Columbus, Ohio (GO BUCKEYES!!!). I was inspired by my strong single mother, loved and supported, always, by my grandfather, pestered by my younger brother, and forever watched over by my late father. Then back in May of this year I married my college sweetheart, best friend, and man who will forever stand beside me supporting any dream I have no matter how eccentric it is. I also have the best dog in the WORLD named Joey (after Joey Tribbiani from Friends) and a beautiful black cat named Dana (after Dana Scully from X-Files).
Why did you become an educator/school counselor?
I always knew I wanted to work in a school with younger children because that is where I had some of my most formidable memories that made me who I am today and I wanted to give that kind of positivity back to any student out there who might feel there are not enough adults out there who care about their future. I used to think that meant I needed to be a Classroom Teacher, but I knew deep down that was not the path for me, however I still knew school was the best place for me to have an impact, so I reflected and thought about some of the most memorable people in my life from school. .
When I was in high school I had the best English teacher, Mrs. McDermott who taught me that there are people out there who are not biologically your family but will still go above and beyond to treat you as so. I also had a School Counselor named Mrs. Johnson who also showed me the same love and kindness, which led me to this career. These two AMAZING women helped me realize that I can strive to give a similar experience to any student out there needing an adult to hear their voice. This is what led me to become a School Counselor.
What do you like best about Middletown City Schools?
I love that even though this is such a big district in such a big city, it still has such a "small town" feel to it! Everybody knows everybody and they all want to help the best way they know how! I appreciate so much how connected everyone is throughout the district and how (at least at Miller Ridge) those not from the Middletown area are given the warmest welcome and the hopeful opportunity to feel like a significant part of this up and coming city.
What is your favorite Middletown/your school tradition? Why?
What I love most is that Miller Ridge isn't beholden to any one tradition and is OPEN to any new idea. There isn't a staff member nor student who isn't willing to try something new, especially if it means spreading joy and kindness to others. Happiness is contagious at Miller Ridge, the second someone comes up with a way to spread it, the love catches like wildfire and spreads throughout the building. I am so thankful for being a part of this Rocket community because of this, and I know no matter what, everyone is welcomed here.
If you weren't a counselor, what would you be doing?
I love making people laugh and giving them any moment, big or small, where they can blissfully forget about any struggle they're having in life, so I like to think I would be writing scripts for the next hit sitcom show that brings people together. I know, I dream big, and maybe unrealistically sometimes, but who says I can't?! I say life is full of endless possibilities and if you believe you can, then you will.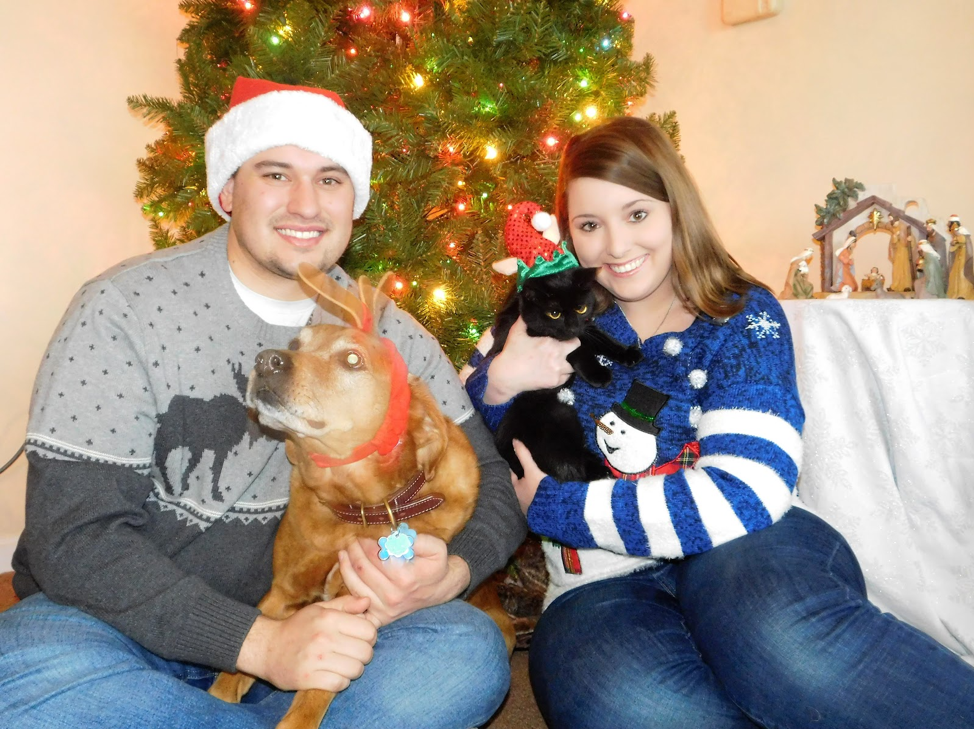 And for some fun questions!
What do you like to do in your spare time? What are some of your hobbies?
I LOVE watching Ohio State football followed by the Pittsburgh Steelers, Miami Heat, Cleveland Guardians, and most other sporting teams that may effect my favorites, listening to music/going to concerts(pre-covid) and singing/dancing along like it was my job, solving crossword and sudoku puzzles, feeding the birds, watching old/new movies, tv shows, and documentaries. I also enjoy spending time with my loved ones any chance I get.
What's your favorite Middletown restaurant?
I LOVE Shaddock's Pizza! The ladies who work there take such pride in their craft and I appreciate that because pizza is an art no matter what anyone says and they live up to every aspect of it.
Favorite quote or personal motto:
Laughter is the shortest distance between two people. - Victor Borge
People feel closest to each other when they can laugh together so why not always try your hardest to spread something as natural as laughter. It is also considered the best medicine ;)
Anything else you'd like to share?
This is my 4th year with the district and I still feel like I am just getting started on making a difference with this special community in a similar way that my school district growing up made for me. I feel like all my life I have dreamed of working for and being a part of a community like Middletown and that dream has finally come true. For that I am eternally thankful for all out there, adults and children, who have made me feel like I am HOME.