Get to Know Our Elementary Counselors: Part 1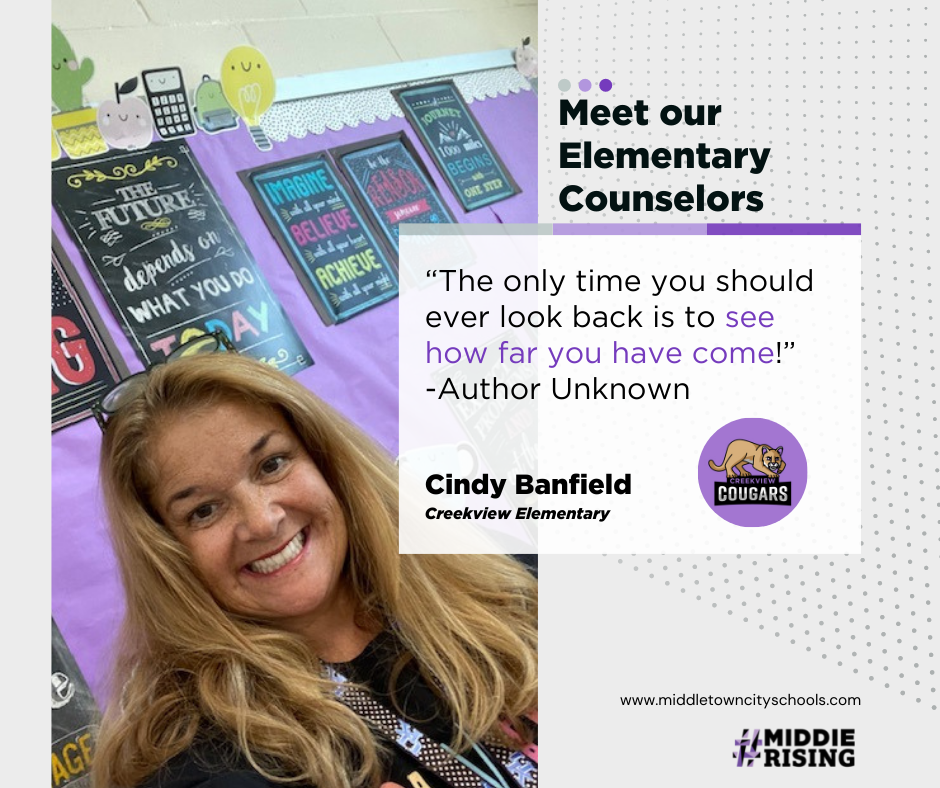 Get to Know Our Elementary Counselors!
Name: Cindy Banfield
School building/Grade: Creekview Elementary School (Grades Kindergarten through Grade 5)
College(s): Master's Degree from University of Dayton, Bachelor's Degree from Morehead State University
Hometown: I am from West Union, Ohio. After I graduated from Morehead State University in Kentucky, I moved to Lebanon, Ohio to teach in Lebanon City Schools. I then moved to New Richmond, Ohio to become a school counselor. I worked in New Richmond Schools as a counselor for 25 years. I have 32 years of experience in education working with students from pre-kindergarten through 8th grade.
Tell us a little about yourself and your family:
After being a counselor and teacher for 32 years, I decided to move to the Springboro area to be closer to my daughter, son in law and 2 grandsons. I also have a 3rd grandson on the way and will be here in February, 2022.
I have 3 daughters. My oldest daughter is a pharmacist in the Springboro area. My middle daughter just graduated from Wright State University where she played soccer and is now working on becoming a physician assistant. My youngest daughter is studying nursing and playing soccer as a freshman at Tiffin University in Ohio.
Why did you become an educator/school counselor?
I had always wanted to become a school counselor because as a child I remember my father was a school counselor and was so happy to help his students. From that time, I knew that it was what I eventually wanted to do as my career.
What do you like best about Middletown City Schools?
I like the support of the other staff members and administrators at Middletown City Schools. I also enjoy working with my many students and getting to know them. I like helping them find success and providing them support academically, socially and emotionally.
What is your favorite Middletown/your school tradition? Why?
I really like how Creekview staff and students say the Middie PRIDE statement every morning.
"Middie Pride is what I see/
Performance, respect and integrity./
Determined with effort is what I'll be./
Creekview is the place for me!"
I think this statement gets us off in the right direction every morning.
If you weren't a counselor, what would you be doing?
If I were not a school counselor, I would be a family therapist because I enjoy helping others.
What do you like to do in your spare time? What are some of your hobbies?
I enjoy walking and hiking with my two dogs (Shadow and Milkshake).
I also enjoy spending time with my family.
I enjoy hanging out with my grandsons.
I enjoy watching my daughter play college soccer.
I enjoy watching UK basketball and am a huge fan!
What's your favorite Middletown restaurant?
I love Mexican food so I enjoy all of the Mexican restaurants in town.
Favorite quote or personal motto:
"The only time you should ever look back is to see how far you have come!" (Author Unknown)
"You miss 100% of the shots you don't take!" -Michael Scott (from the office)