Full-Scale Safety Exercise Planned for Middletown City School District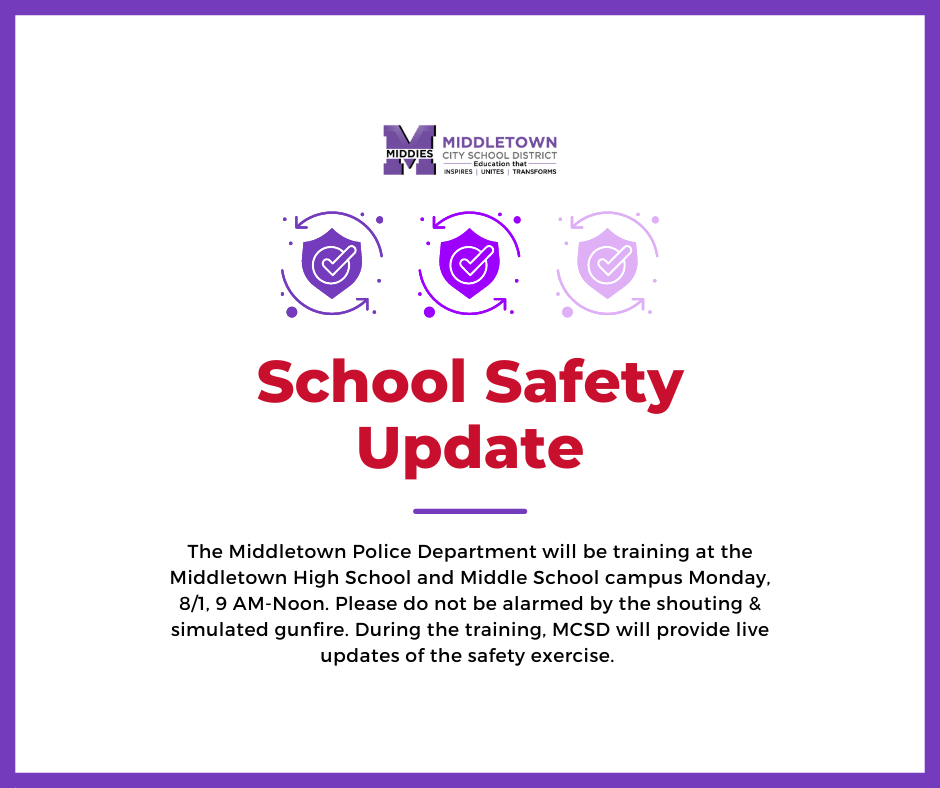 Middletown City School District (MCSD) will participate in a full-scale safety exercise on Aug. 1 at the Middletown High School and Middle School campus (601 N Breiel Blvd., Middletown, OH 45042). This exercise will simulate an active shooter at one of the two schools. The safety exercise will take place from 9:00 a.m. to 12:00 p.m. and it will involve local law enforcement. No students will be on campus.
During the full-scale exercise, the Middletown Police Department will use simulated gunfire and MCSD will provide live updates of the safety exercise. To follow along with the updates, go to www.MiddletownCitySchools.com.
According to Marlon Styles, Jr., MCSD Superintendent, "This is a complex, coordinated event involving first responders, community partners, county and state agencies, and our administrative staff. Simulating safety drills, practicing our communication, and talking about school safety continuously is one part of how we keep our students and staff safe."
The purpose of the active shooter safety exercise is to provide a hands-on or physical test to evaluate the school district's Emergency Operations Plan and the district's emergency preparedness in handling this type of event. Every Ohio district must conduct at least one annual emergency management test as defined in the Ohio Revised Code. A district can perform a different type of test within a 3-year cycle, including a tabletop, functional, or full-scale exercise. The exercise planned for Aug. 1 will meet the requirements of mobilization of personnel and equipment along with activating an Incident Command Post to coordinate all response functions.
After the completion of the safety exercise, participants, administrators, first responders and other individuals serving as evaluators will analyze the exercise to identify strengths and areas of improvement to enhance the district's Emergency Operations Plan.
El Distrito Escolar de la Ciudad de Middletown (MCSD) participará el 1 de Agosto en un ejercicio de seguridad a gran escala en el campus de la Escuela Secundaria y la Escuela Intermedia (601 N Breiel Blvd., Middletown, OH 45042). Este ejercicio simulará un disparador activo en una de las dos escuelas. El ejercicio de seguridad tendrá lugar de 9:00 a.m. a 12:00 p.m. e involucrará a la policía local. No habrá estudiantes en el campus.
Durante el ejercicio de gran escala, el Departamento de Policía de Middletown utilizará disparos simulados y el Distrito escolar de la Ciudad de Middletown proveerá actualizaciones en vivo del ejercicio de seguridad. Para seguir las actualizaciones, siga www.MiddletownCitySchools.com.
Según Marlon Styles, Jr., Superintendente de MCSD, "Este es un evento complejo, coordinado que involucra a los socorristas, socios comunitarios, agencias estatales y del condado y nuestro personal administrativo. Al simular simulacros de seguridad, practicando nuestra comunicación, y el hablar continuamente sobre la seguridad escolar, es una parte de cómo mantenemos seguros a nuestros estudiantes y personal."
El propósito del ejercicio de seguridad del disparador activo es proporcionar una prueba práctica o física para evaluar el plan de operaciones de emergencia del distrito escolar y la preparación para emergencias del distrito en el manejo en este tipo de eventos. Cada distrito de Ohio debe realizar al menos una prueba anual del manejo de emergencias como se define en el Código Revisado de Ohio. Un distrito puede realizar un tipo de prueba dentro de un ciclo de 3 años, incluído un ejercicio de simulación, funcional o de gran escala. El ejercicio planeado para el 1 de Agosto cumplirá con los requisitos de movilización de personal y equipo junto con la activación de un Puesto de Comando de Incidentes para coordinar todas las funciones de respuesta.
Después de haber terminado el ejercicio de seguridad, los participantes, administradores, socorristas y otras personas que actuán como evaluadores analizarán el ejercicio para identificar los puntos fuertes y las áreas de mejora para mejorar el Plan de Operaciones de Emergencias del distrito.