EdChoice Voucher Update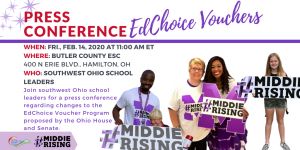 Join southwest Ohio school leaders on Friday, Feb. 14 at 11:00 AM for a press conference regarding changes to the EdChoice Voucher Program proposed by the Ohio House and Senate.
Speakers: Mike Holbrook, superintendent at Hamilton City School District, Michael Berding, BOE president at Fairfield City School District, Todd Bowling, superintendent at Northwest Local School District, and parents from Middletown City School District.
WHERE:
Butler County Educational Service Center
400 N. Erie Blvd., Suite A
Hamilton, OH 45011
What can you do to help? Contact your state legislators and ask them to support SB 89.
Senator Matt Huffman
614-466-7584
Matt.Huffman@ohiosenate.gov
Senator Bill Coley
614-466-8072
Bill.Coley@ohiosenate.gov
Senator Lou Blessing III
614-466-8068
Lou.Blessing@ohiosenate.gov
Senator Steve Wilson
614-466-9737
Steve.Wilson@ohiosenate.gov
Senator Cecil Thomas
614-466-5980
Cecil.Thomas@ohiosenate.gov
Rep. Sara Carruthers
614-466-6721
Sara.Carruthers@ohiohouse.gov
Rep. Candice Keller
614-466-5094
Candice.Keller@ohiohouse.gov
Rep. George Lang
614-466-8550
George.Lang@ohiohouse.gov
Rep. Paul Zeltwanger
614-466-6027
Paul.Zeltwanger@ohiohouse.gov
Rep. Cindy Abrams
614-466-9091
Cindy.Abrams@ohiohouse.gov
Rep. Bill Seitz
614-466-8258
Bill.Seitz@ohiohouse.gov