DONATE: 6th Grade Inspiring Adventures Fundraising Campaign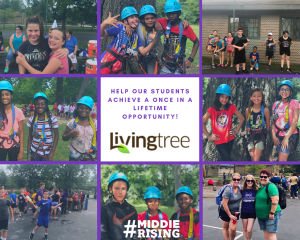 Each year, approximately 500 students make a huge transition into Highview 6th Grade Center from seven different elementary schools within the Middletown City School District. The Highview staff has teamed up with Camp Chautauqua to provide students the Inspiring Adventures experience!
During the first weeks of school, teams of students travel by bus to a 45 acre environment with a host of indoor/outdoor recreational options to engage, equip, and empower students to impact their world. During their 9 hour experience at the camp, students share two meals together and participate in a custom designed experiential learning program. These experiences support meaningful relationship-building while developing life skills such as leadership, teamwork, problem solving, and self-awareness.
Our campaign goal amount is $15,425.00. This amount ensures that every student is provided transportation both to and from the camp, hot meals for lunch and dinner, and has equitable access to all of the inspirational camp activities at no cost.
To make a contribution to this campaign please click the button below.