Covid Update #1: Temporary Mask Requirement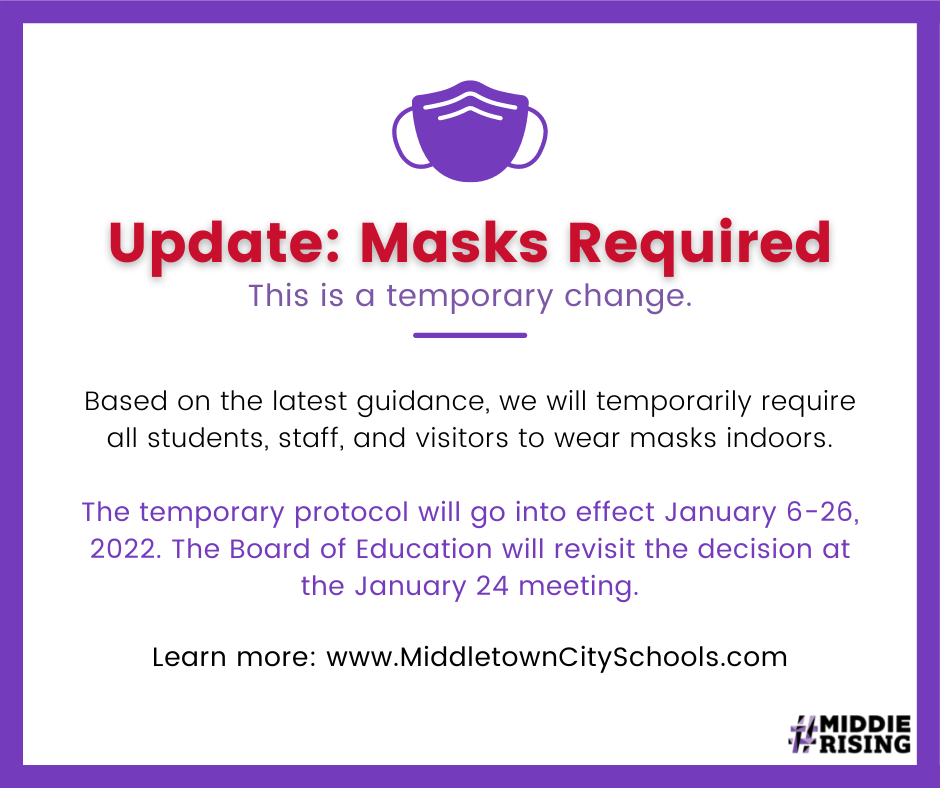 UPDATE: January 4, 2022
Based on updated guidance from the City of Middletown Health Department, the Middletown City School District will temporarily require all students, staff, and visitors to wear masks or approved face coverings while inside our buildings. We have made this decision due to increased positivity rates and the spread of the COVID-19 Delta and Omicron variant in our community coupled with the substitute teacher shortage.
This temporary protocol is effective Thursday, January 6 through 26, and we plan to revisit the face mask decision at the January 24 Board of Education meeting.
The temporary mask requirement applies to all indoor settings, including schools, school district facilities, and school buses. Our teachers and staff will provide breaks for students to briefly remove their masks throughout the day. Students will not be required to wear masks outdoors.
In addition to requiring all students, staff, and visitors to wear masks in school buildings during school hours, Middletown City Schools is adopting the updated CDC and Ohio Department of Health quarantine guidelines. Those guidelines require anyone who tests positive for COVID-19, regardless of vaccination status or symptoms, to isolate for at least five days. Isolation may end on the sixth day if the person's "fever is gone and other symptoms are better" and the person "consistently wears a mask for the next five days."
ODH has also updated its "Mask to Stay" and "Test to Play" guidelines regarding individuals who come into direct contact in a school setting with individuals who have tested positive for COVID-19. According to current ODH guidelines, "direct contacts, regardless of vaccination or masking status, may remain in the classroom environment if they do the following:
Wear a mask for 10 days after last date of exposure

Self-monitor, or parent-monitor, for symptoms of COVID-19

Isolate and get tested if experiencing symptoms associated with COVID-19 (regardless of level or severity)"
We want to thank our students, staff, and families for following our mitigation measures this school year. We know it has not been easy. Thanks to your efforts, we have been able to keep one another safe and continue with in-person learning.
As always, thank you for your support and understanding.
Apreciadas familias de Middletown:
Basado en la guía actualizada del Departamento de Salud de la Ciudad de Middletown, el Distrito Escolar de la Ciudad de Middletown requerirá temporalmente que todos los estudiantes, el personal y los visitantes usen máscaras o cubiertas faciales aprobadas mientras estén dentro de nuestros edificios. Hemos tomado esta decisión debido al aumento de las tasas de positividad y la propagación de las variantes Delta y Omicron del COVID-19 en nuestra comunidad, junto con la escasez de maestros sustitutos.
Este protocolo temporal entra en vigencia desde el Jueves 6 al 26 de Enero, y planeamos revisar la decisión de la mascaras en la reunión de la Junta de Educación del 24 de Enero.
El requisito de máscara temporal se aplica a todos los entornos interiores, incluidas las escuelas, las instalaciones del distrito escolar y los buses escolares. Nuestros maestros y personal proporcionarán descansos para que los estudiantes se quiten brevemente las máscaras durante el día. No se requerirá que los estudiantes usen máscaras al aire libre.
Además de exigir que todos los estudiantes, el personal y los visitantes usen máscaras en los edificios escolares durante el horario escolar, las escuelas de la ciudad de Middletown están adoptando las pautas actualizadas de los CDC y Pautas de Cuarentena del Departamento de Salud de Ohio. Esas pautas requieren que cualquier persona que dé positivo por COVID-19, independientemente del estado de vacunación o los síntomas, se aísle durante al menos cinco días. El aislamiento puede terminar al sexto día si la persona "ha desaparecido la fiebre y otros síntomas han mejorado" y la persona "usa constantemente una máscara durante los próximos cinco días".
ODH también ha actualizado sus Pautas "Mascaras Para Permanecer" y "Prueba para Jugar" con respecto a las personas que entran en contacto directo en un entorno escolar con personas que dieron positivo en la prueba de COVID-19. De acuerdo con las pautas actuales de la ODH, "los contactos directos, independientemente del estado de vacunación o enmascaramiento, pueden permanecer en el entorno del salón de clase si hacen lo siguiente:
Use una mascara durante 10 días después de la última fecha de exposición.

Autocontrol, o control de los padres, para detectar síntomas de COVID-19

Aísle y hágase la prueba si experimenta síntomas asociados con COVID-19 (independientemente del nivel o la gravedad)
Queremos agradecer a nuestros estudiantes, personal y familias por seguir nuestras medidas de mitigación este año escolar. Sabemos que no ha sido fácil. Gracias a sus esfuerzos, hemos podido mantenernos seguros unos a otros y continuar con el aprendizaje en persona.
Como siempre, gracias por su apoyo y comprensión.