COVID-19 Quarantine Guidelines Update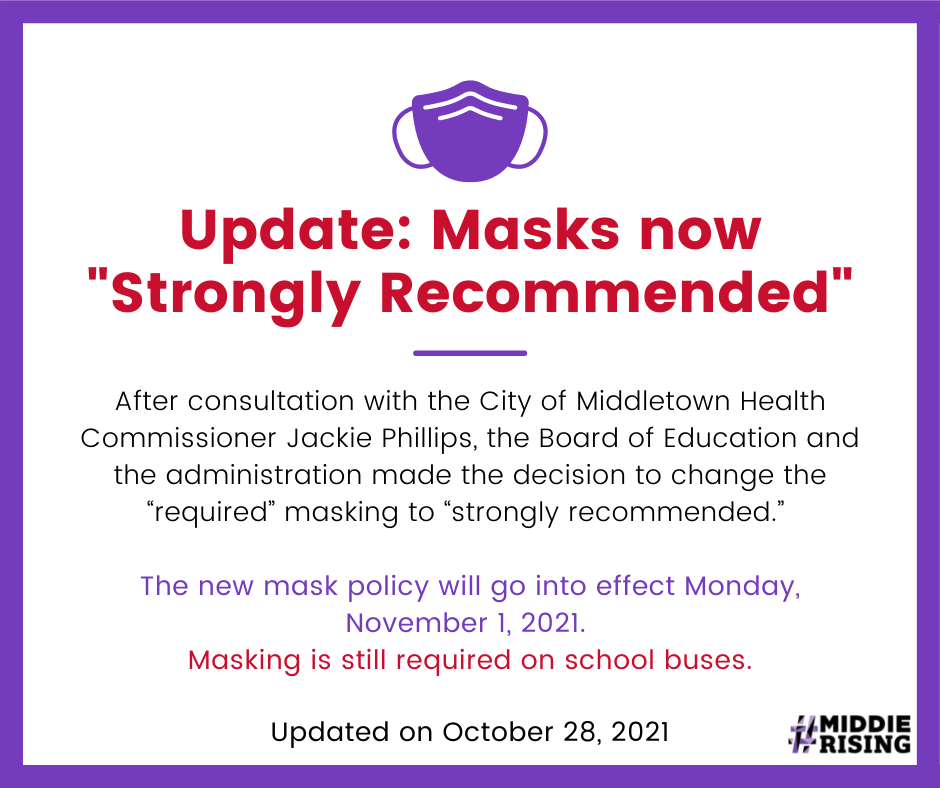 Dear Middletown Families, Staff, and Community:
As we head into the second quarter, I'd like to thank you for your support so far this school year. As new guidelines emerge, you have pivoted and you have encouraged us to make safe and sound decisions for our buildings.
At the Monday Board of Education meeting, I updated the Board of Education with the new Ohio Department of Health (ODH) COVID-19 school quarantining guidance. These guidelines are designed to help keep students in school and reduce long-term quarantines out of school. Below is a condensed version of the updated guidelines as well as a link to the complete ODH Quarantine Guidelines.
Mask to Stay
Those unmasked or unvaccinated who were exposed to COVID-19 from INSIDE the school setting are no longer required to follow standard quarantine rules and may remain in school IF the following criteria* are met:
Wear a mask to school for 14 days from the exposure;

Parents monitor their child's symptoms at home;

Exposed person isolates if symptomatic;

Masking may discontinue after seven (7) days if no symptoms are present and a negative COVID-19 test result after day seven (7) of exposure. Test can be a PCR or antigen test. The test cannot be an over- the-counter test that is entirely self-administered.
*This only applies to students who were exposed within the school setting.
Test to Play
Those who have been exposed to COVID-19 and participating in extracurricular activities who are asymptomatic can continue to participate in school activities if they:
Test as soon as they are notified following exposure;

Wear a mask when reasonable such as riding on a team bus, locker room, sitting or standing on sidelines;

If a student tests again between days five (5) and seven (7) and tests negative, they can discontinue masking. The test can be a PCR or antigen test. The test cannot be an over-the-counter test that is entirely self-administered.
To view the updated ODH Quarantine Guidelines, click here.
We are aware that COVID-19 is still active in our community and we will continue to be mindful of the health and safety of each other in our school environments. After consultation with the City of Middletown Health Commissioner Jackie Phillips, the Board of Education and the administration made the decision to change the "required" masking to "strongly recommended." The new mask policy will go into effect Monday, November 1, 2021.
Individuals are permitted to wear masks in school buildings and at school-related events, but it is no longer a mandatory requirement. Masks are optional/strongly recommended; however,
We strongly recommend any unvaccinated individual to consider wearing a mask.

The district will continue to make masks available for any individual that requests one during the school day.

Masking is required on school buses.

There may be periods of time where illnesses increase in our buildings, and in those cases we may issue recommendations for increased precautions, including the encouragement/requirement to wear masks.
The following practices will continue within our school buildings:
Frequent hand washing routines;

Hand sanitizing stations throughout each school building and inside our classrooms;

Thorough cleaning practices, including school buses and cafeterias;

The use of hands-free water bottle filling stations;

Continuing to urge families to monitor their child's health every day;

Stay home when sick.
We will continue to be responsible and respectful as we transition from required masking to strongly recommended masking.
We truly appreciate our students, staff, and families' efforts to follow public health orders throughout the pandemic. We look forward to carrying this positive momentum into the second quarter of this school year.
Sincerely,
Marlon Styles, Jr.
Superintendent
To view the updated ODH Quarantine Guidelines, click here.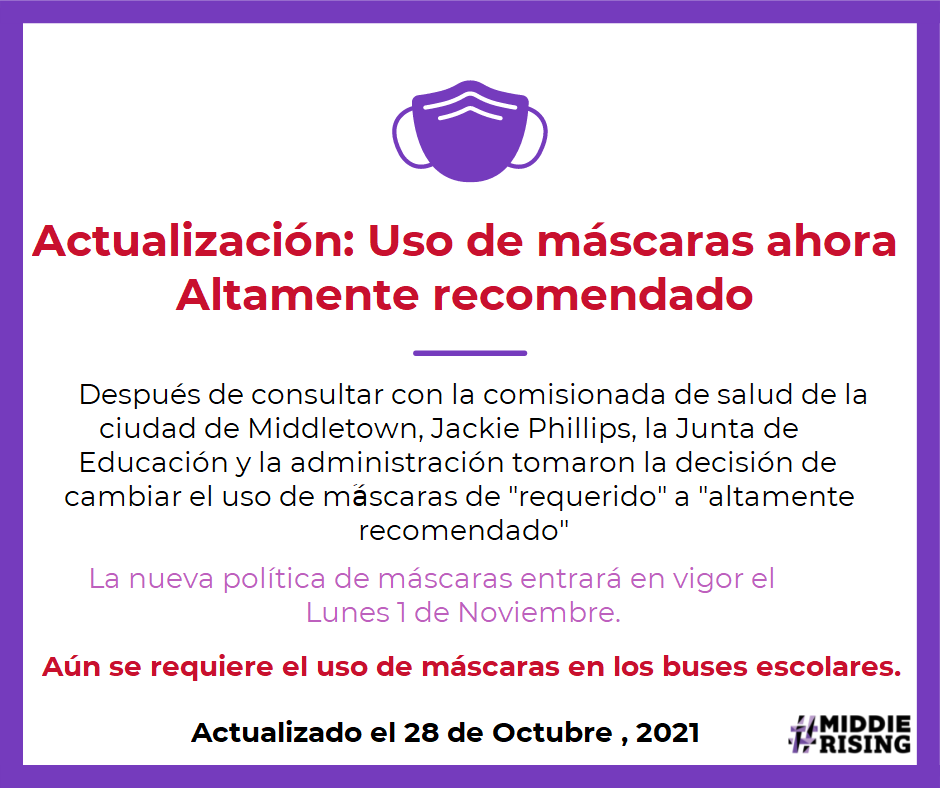 Apreciadas Familias, Personal y Comunidad de Middletown:
A medida que nos acercamos al segundo trimestre, me gustaría agradecerles por su apoyo hasta ahora este año escolar. A medida que surgen nuevas pautas, usted ha cambiado y nos ha alentado a tomar decisiones seguras y sólidas para nuestros edificios.
En la reunión de la Junta de Educación del Lunes, actualicé la Junta de Educación con la nuevas pautas de cuarentena escolar COVID-19 del Departamento de Salud de Ohio (ODH). Estas pautas están diseñadas para ayudar a mantener a los estudiantes en la escuela y reducir las cuarentenas a largo plazo fuera de la escuela. A continuación se muestra una versión condensada de las pautas actualizadas, así como un enlace a las Pautas de cuarentena ODH completas.
Las Máscara se Quedan
Aquellos que no usan mascaras o no han sido vacunados que estuvieron expuestos al COVID-19 desde DENTRO del entorno escolar ya no están obligados a seguir las reglas estándar de cuarentena y pueden permanecer en la escuela SI se cumplen los siguientes criterios *:
Use una máscara para ir a la escuela durante 14 días a partir de la exposición;

Los padres controlaran los síntomas de su hijo(a) en casa;

La persona expuesta se aislara si presenta síntomas;

El uso de mascaras puede interrumpirse después de siete (7) días si no hay síntomas presentes y un resultado negativo de la prueba de COVID-19 después del día siete (7) de exposición. La prueba puede ser una PCR o una prueba de antígeno. La prueba no puede ser una prueba de venta libre que sea completamente autoadministrada.
* Esto solo se aplica a los estudiantes que estuvieron expuestos dentro del entorno escolar.
Prueba para Jugar
Aquellos que han estado expuestos al COVID-19 y participan en actividades extracurriculares y son asintomáticos pueden continuar participando en las actividades escolares si:
Hagase la prueba tan pronto como se les notifique después de la exposición;

Use una máscara cuando sea razonable, como viajar en el bus del equipo, en el vestuario, sentarse o pararse al margen del campo;

Si un estudiante vuelve a hacerse la prueba entre los días cinco (5) y siete (7) y da negativo, puede suspender el enmascaramiento. La prueba puede ser una PCR o una prueba de antígeno. La prueba no puede ser una prueba de venta libre que sea completamente autoadministrada.
Para ver las Pautas de cuarentena actualizadas de ODH , Haga Click Aqui.
Somos conscientes de que COVID-19 todavía está activo en nuestra comunidad y continuaremos siendo conscientes de la salud y seguridad de los demás en nuestros entornos escolares. Después de consultar con la Comisionada de Salud de la ciudad de Middletown, Jackie Phillips, la Junta de Educación y la administración tomaron la decisión de cambiar el uso de mascaras "requerido" a "altamente recomendado". La nueva política de máscaras entrará en vigencia el lunes 1 de noviembre de 2021.
Se permite que las personas usen máscaras en los edificios escolares y en eventos relacionados con la escuela, pero ya no es un requisito obligatorio. Las máscaras son opcionales/muy recomendadas; sin embargo,
Recomendamos encarecidamente a cualquier persona no vacunada que considere usar una máscara.

El Distrito continuará poniendo máscaras a disposición de cualquier individuo que las solicite durante el día escolar.

Se requiere enmascaramiento en los buses escolares.

Puede haber períodos de tiempo en los que las enfermedades aumentan en nuestros edificios y, en esos casos, podemos emitir recomendaciones para aumentar las precauciones, incluido el estímulo/requisito de usar máscaras.
Las siguientes prácticas continuarán dentro de nuestros edificios escolares:
Rutinas frecuentes de lavado de manos;

Estaciones de desinfección de manos en cada edificio escolar y dentro de nuestros salones de clase;

Prácticas de limpieza exhaustivas, incluidos los buses escolares y las cafeterías;

El uso de estaciones de llenado de botellas de agua de manos libres;

Continuar instando a las familias a monitorear la salud de sus hijos todos los días;

Quédese en casa cuando esté enfermo.
Seguiremos siendo responsables y respetuosos a medida que pasemos del uso de mascaras obligatorio al uso de mascaras muy recomendado.
Realmente apreciamos los esfuerzos de nuestros estudiantes, personal y familias para seguir las órdenes de salud pública durante la pandemia. Esperamos llevar este impulso positivo al segundo trimestre de este año escolar.
Atentamente,
Marlon Styles, Jr.
Superintendente
Para ver las Pautas de cuarentena actualizadas de ODH, Haga Click Aqui.