Award Winning Author in Middletown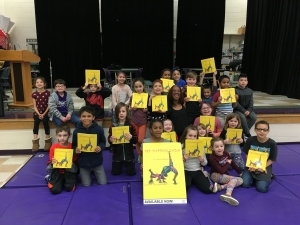 As of March 2019, Ms. Yonce Daniels, the first African American gymnast to own her own gymnastics gym, has visited every single elementary school for a book reading and signing of her book "My Flipping YaYa." That's nearly 1,500 students!
After each reading, she worked with some of the students in light gymnastics moves.
A little about Ms. Daniels:
Yonce Daniels lives in Cincinnati, Ohio. She started gymnastics at the age of 5 in Tallahassee, Florida. She attended Florida A&M University High School and received a full ride gymnastics scholarship to The University of Iowa. She toured professionally with Kurt Thomas Gymnastics America. She opened Gym Express (the first female African-American owned gymnastics school) training preschool through elite level gymnasts. Yonce Daniels is the gymnastics coordinator and head coach for the Mason Twisters. She is also a certified personal trainer and aerial yoga instructor. Yonce Daniels has read and completed a gymnastics demonstration to all the elementary schools in the Middletown City School District to an estimate of 1497 K-2nd graders!