Announcing Our New Athletic Director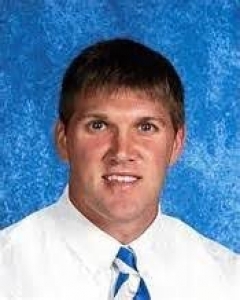 Middletown City School District today announced Justin "JD" Foust as the new Athletic Director. A Cincinnati native, Foust has spent the past nine years in athletic director positions at Norwood City School District (2010-2016) and Tippecanoe High School (2016-2019).
"I am very excited to be joining the positive movement in Middletown. The Middies have had a tradition of proven success, and I am proud to be the next Athletic Director. I am looking forward to building relationships with the students, coaches, alumni and community of Middletown," said JD Foust.
Foust has a history of success with community relations, finances, and growing athletic programs. While at Norwood Schools and Tippecanoe High School, he orchestrated fundraising efforts for new facilities, negotiated sponsorship contracts, and received recognition by the Ohio State Auditors for clean finances. He works hard to connect with the community through social media, alumni, and current students.
"We are very excited to have hired JD as the Middletown City School District Athletic Director. He brings to us a wealth of experience in the field and some outstanding skills that will take us to the next level with athletics. He is excited to be on our team and to become part of our Middie Family as we strive for future success," said Carmela Cotter, Principal at Middletown High School.
As the new Middletown Athletic Director, Foust will work with Carmela Cotter, principal at Middletown High School, Michael Valenti, principal at Middletown Middle School, and district administration to grow the athletic department, encourage more students to participate in sports, and build relationships with the parents and students at Highview 6th Grade Center and the seven MCSD elementary schools. Foust's proven track record in his past positions is a major benefit for MCSD.
"With all of us working as one, I know we can revive the Middie Magic," said Foust.
Foust, a graduate of Norwood High School, attended undergrad at the University of Toledo and Xavier University and he received his Athletic Administrator Certification from the University of Maine. While in college, Foust received a full scholarship for baseball, he was drafted and signed by the Philadelphia Phillies, and he signed as a free agent with the Chicago White Sox.